Announcing the Aragon Ambassadors Program
Join the fight as one of our Aragon Ambassadors. Now accepting applications for our 'Eaglet' phase.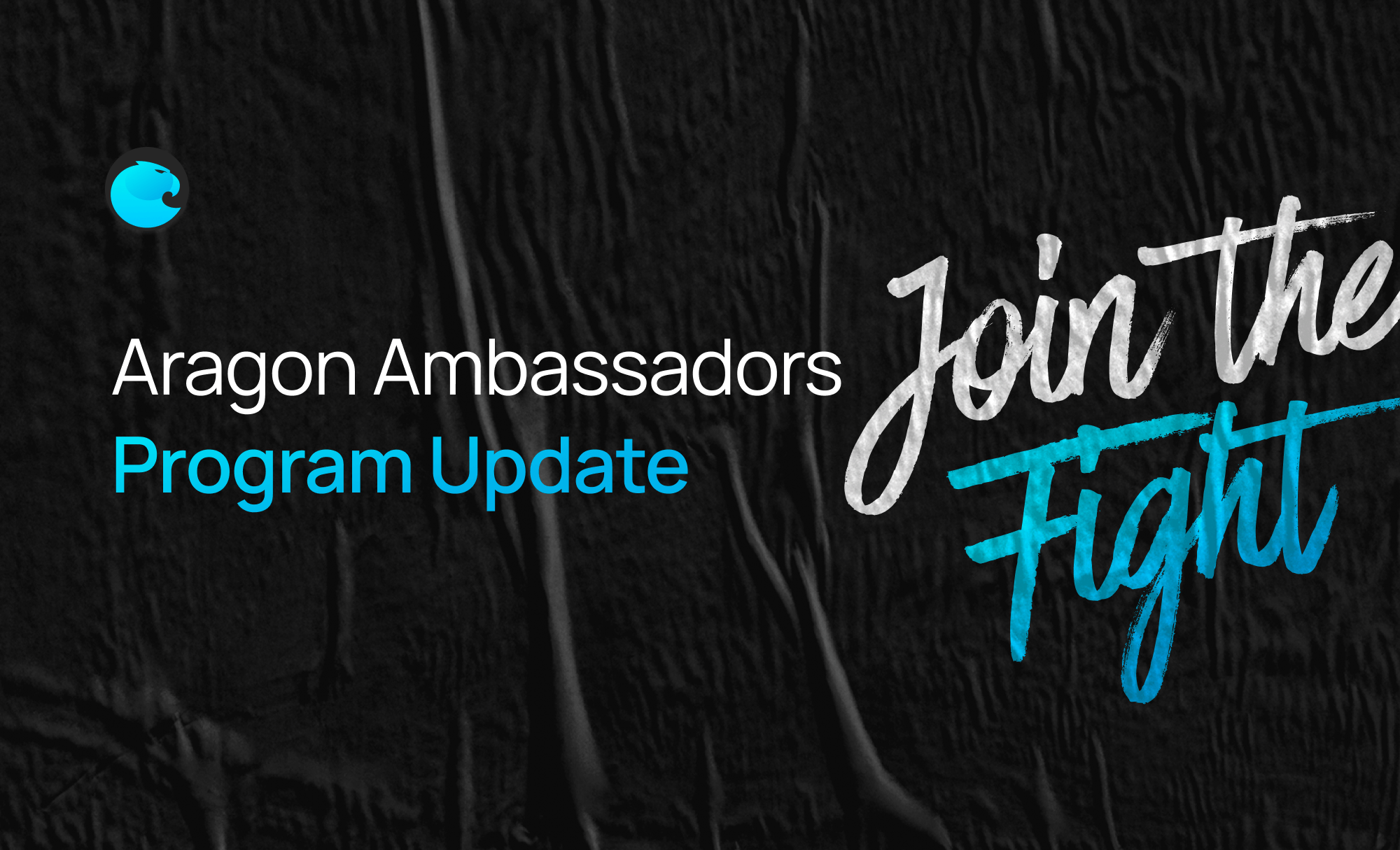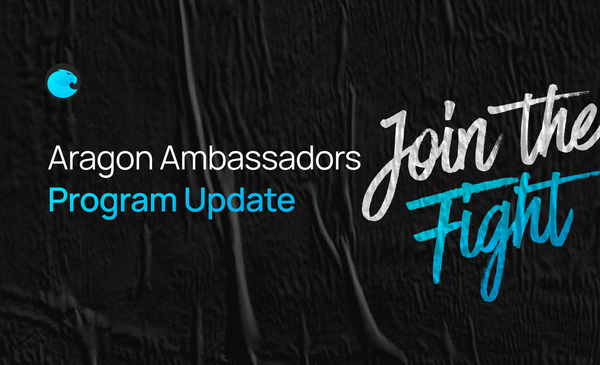 The second phase of our Ambassadors Program - 'Eaglet' - is now open for applications.
Become an Ambassador
As legacy institutions crumble, new borderless, digital jurisdictions are rising like phoenixes (and eagles) to replace them. This is what we're building at Aragon. And just as legacy jurisdictions need ambassadors, so do digital ones. The difference is, we are not looking for people from a certain demographic, with a particular background or qualifications; rather, we are looking for anyone who embodies the values of our Manifesto and has a passion to empower individuals through Web3 technology.
Our goal is to build a network of Aragon Ambassadors across every town, city, and country in the world. The Program is recently out of its soft-launch Early Bird phase, having onboarded its first 29 Ambassadors during September 2021. The three rollout phases are as follows:
Early Bird Phase: 100 Ambassadors
Eaglet Phase: 250+ Ambassadors in 2021
Eagle Phase: 500+ Ambassadors in 2022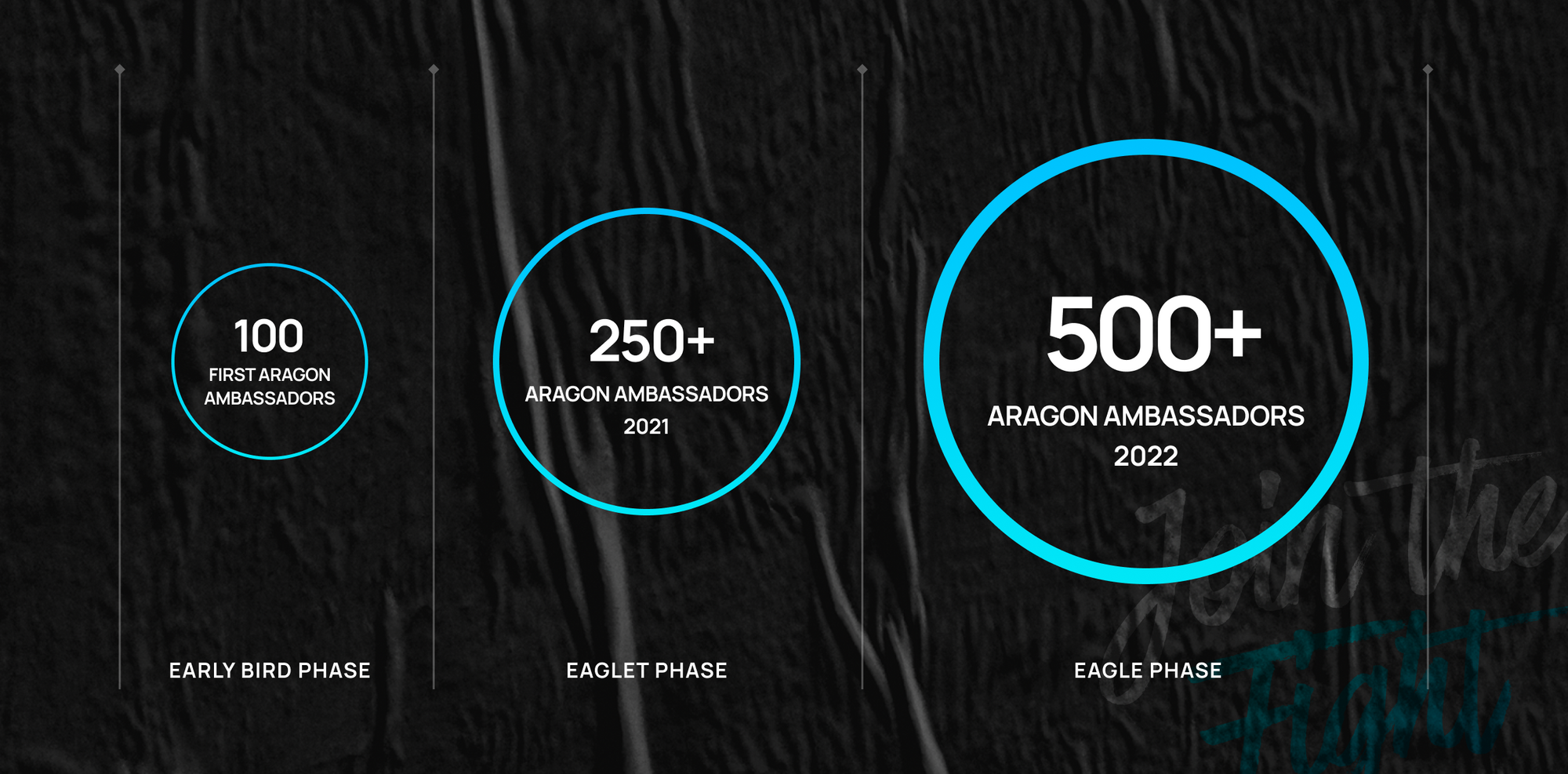 Why Become an Aragon Ambassador?
The Aragon Ambassador Program is an excellent opportunity to position yourself for a bigger role in the future of decentralized governance, DAOs and digital voting. As an Aragon Ambassador, you will be part of a network of representatives, vital to increasing awareness of how Aragon's solutions are making decentralized governance a reality. To help prepare you for the role, you will have privileged, behind-the-scenes access to the cutting edge of Web3 development and have the chance to contribute to projects that will radically alter the landscape of governance and voting worldwide. You will also be eligible for the following benefits and experiences:
Exclusive Invitations: Tickets & passes to Aragon events, conferences, hackathons, research calls, walkthroughs, and demos.
Intel & Resources: Access to Ambassadors-only resources and promotional materials for your own education and training.
Ongoing Support: ‍Direct team support to organize and grow successful local meetups in your area.
Direct Impact: Help shape community initiatives in the Aragon Network, and become increasingly reputable in your communities.
New Friends: Meet and form friendships with smart, interesting, similar-minded individuals from all over the world.
Magic Moments: Showcase your contributions to a large audience on the monthly Aragon Community Calls.
Community Launchpad: Receive expert technical guidance from the Aragon team to design, deploy and grow your own DAO.
Recognition: Display a distinctive Ambassador badge on Discord, our Forum, and other official Aragon channels.
Free Swag: Access to limited-edition, environment-friendly, Aragon-branded swag.
What Is Required of an Aragon Ambassador?
Here are a few ways you will be able to contribute:
Represent your city, country, or region at key Aragon events.
Host in-person or virtual meetups.
Collect feedback and ideas on governance and DAOs from your community.
Participate in monthly roundtable calls with Ambassadors from all over the world, and update the Aragon Community Team on the progress of your initiatives via group chats.
Provide ongoing support and mentorship to newcomers and co-moderate dedicated channels.
Create visual / written content on how Aragon and products like Vocdoni, powered by Aragon Labs, support the advancement of DAOs and decentralized governance solutions.
Contribute with coding and / or documentation for the Aragon OpenStack.
Identify and suggest partnerships and other kinds of opportunities to the Aragon Team.
The Aragon Community Team will review each submission and reach out to qualified applicants to schedule a follow-up call within a few days. If selected, you will be onboarded as an official Aragon Ambassador with the rest of your cohort and partnered with an Ambassador from your local region.
Let's govern better, together.
Join the Fight
Subscribe to The Eagle for weekly news on the Aragon Network