2022 DAO Research Update: What do DAO Builders Need?
Three key insights from our latest research.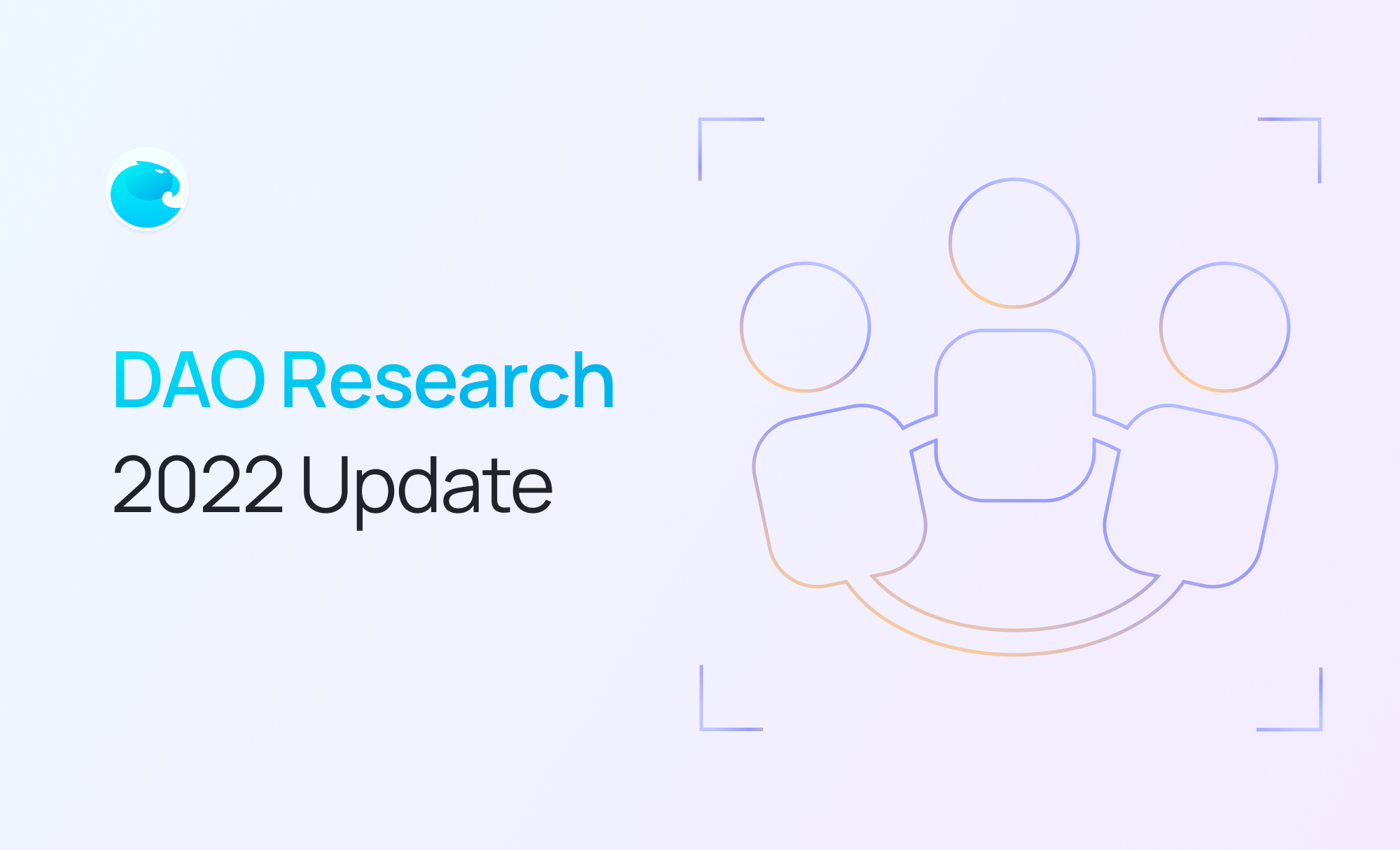 The DAO landscape is probably evolving faster than any industry in history. 12 months ago DAOs collectively held $500m, and now command more than $11bn. The space is bursting with new use cases and pulling in builders from a wide array of backgrounds. All of this activity brings in new cohorts of DAO creators and members who need to be understood and catered for.
In response to this, Aragon is evolving too, and over the coming weeks we will be sharing the results of several research sprints we've done to better understand how to align ourselves with the needs of today's DAO creators and to answer the question: "What, if anything, is preventing people from successfully creating DAOs?"
Our research ranged between analyzing quantitative data, to conducting in-depth qualitative interviews. In the process, we spoke to over 50 Aragon DAOs, key influencers, web3 experts and novices to identify whether our products resolve their issues and, if not, how they need to change.
In this first update, we will lay out three themes that emerged from the research, which will dictate the design principles that Aragon will be prioritizing in our forthcoming products.

1. Complexity → Simplicity
With few exceptions, most builders eventually run into a wall of complexity and confusion when trying to set up a DAO. Some of the questions that arise are:
What kind of governance do I need?
Should I create a token?
How should I decide the supply of my token?
How should my tokens be distributed?
How can I add liquidity for my token?
What are the legal implications of creating a token?
How can my DAO progressively decentralize?
Are DAOs secure?
Most builders have a clear vision and goal in mind, but don't understand the implications of the technical choices they are making. A few of the specific pain points mentioned were:
Needing to use too many tools.
The tools are hard to use and / or require Solidity experience.
It's difficult to separate legitimate and relevant information from noise.
These points were present in our earliest research and reappeared in every subsequent round. Some creators overcame these obstacles by experimenting and iterating with different tools, while others spent months planning and sourcing expert opinions before building their optimal system.
This leads to the conclusion that DAO software needs to abstract away as much excess technical complexity as possible, and be much more user-friendly. No- / low-code solutions will help to broaden the appeal and accessibility of DAOs as well as the success rate of DAO creators.

2. Monolithic → Modular
Until recently, most active DAOs were either DeFi protocols or web3 infrastructure that could exist on a one-size-fits-all platform. In contrast, the current wave of DAOs are a cornucopia of goals and ideas with a diverse set of needs. During our research we spoke to builders of:
Artist DAOs
Civic / Community DAOs
DeFi protocols
Gaming guilds
Grants DAOs
Investment DAOs
Learning / mentorship DAOs
Media & Research DAOs
NFT collectives
R&D DAOs
Service / Talent DAOs
Web2 community tokens
Web3 infrastructure
Each category has its own audience and is trying out new ways of working, expanding the definition of a DAO in the process.
Some DAOs have to track reputation and involvement, others need strong incentive structures, others need robust debate and resolution tools. This diversity of models might suggest a vertically-integrated solution, but no single system can serve all needs or be composable enough for the long tail of use cases. To ignore this would hinder the speed of innovation that we want to see in the DAO space.
We conclude that the diversity of DAOs is driving a need for DAO architecture to be much more modular and interoperable with the best DAO tooling solutions, so that DAOs can pick and choose based on their requirements.

3. Static → Adaptable
When creators come to web3 with an idea and a passion, they will spend time immersing themselves in the space, using a variety of learning tools:
Content: Articles, videos, podcasts, etc.
Twitter conversations.
Actively participating in DAOs.
Knowledgeable peers.
At some point, these entrepreneurs stop learning and start testing: they 'make a DAO' to see how it works and what can they do with it. These builders usually start out simply with a small team and community to try things out. This is especially true when defining 'membership' in their DAO. In the process, they will ask questions like:
What incentives do members need?
What are the right roles to create?
What can be done by a core team and what can be built by the community?
However, sometimes it doesn't make sense to decide parameters when future capabilities are dependent on a skill set or community that doesn't yet exist. To get around this problem, founders will often try to engage people who have been through the journey before and can share their wisdom, but this puts the burden on individuals and isn't a scalable way to educate the ecosystem.
In contrast, established DAOs like Bankless and ENS are excellent repositories of knowledge and have the capacity to absorb new members wishing to learn the technical aspects of DAO tooling as well as the softer skills of culture, community organization and processes. As an ecosystem, it makes sense to accelerate this kind of tiered collaboration between DAOs.
The long tail of DAO education involves finding content and tutorials on Twitter, YouTube, blogs, podcasts and relevant websites. In such a fast-moving space, these resources are quickly out-of-date and it can be very time-consuming to find quality information amidst the noise. Web3 has a strong need for current, well-researched educational content, tailored to specific use-cases.
All of these mechanisms are effective up to a point, but suggest that the ecosystem needs to be far more effective in accelerating the practical learning journey. Because of this and the contingencies inherent in creating a DAO, Aragon needs to build systems that support adaptability and learning by doing - something that we will be focusing on over the coming months.
Tell us More!
If you are building a DAO and facing some of the challenges we've mentioned, we'd love to hear about it and work with you to make our products better. Reach out to one of the team on Discord to get the conversation started.
If you'd like to try out new, more modular products and are open to sharing your feedback on them, sign up for our early access program: https://vocdoni.typeform.com/to/bxtMgHb0
For anyone who will be attending Eth Denver in February, come and listen to Aragon's Juliette Chevalier present on 'The needs of the next 10,000 DAOs'.
Finally, stay tuned for announcements about a new product we are releasing in response to this changing landscape and future articles about our research.
--
Aragon is building the future of decentralized governance for Web3 communities & organizations. Deploy a DAO on Aragon Client or Aragon Govern, manage your community on Aragon Voice, resolve disputes in Aragon Court and run enterprise-level votes on Vocdoni, all within our open-source stack. See the latest at aragon.org, subscribe to our monthly newsletter, join the conversation on Discord, or follow us on Twitter.
Docs | YouTube | Telegram | Github | Reddit | Linkedin | Forum
Subscribe to The Eagle for weekly news on the Aragon Network