$50k for Guardian Training in Aragon Court
Don't miss out the chance to earn fees to train as an Aragon Court Guardian. Sign up or check if you have been summoned at court.aragon.org.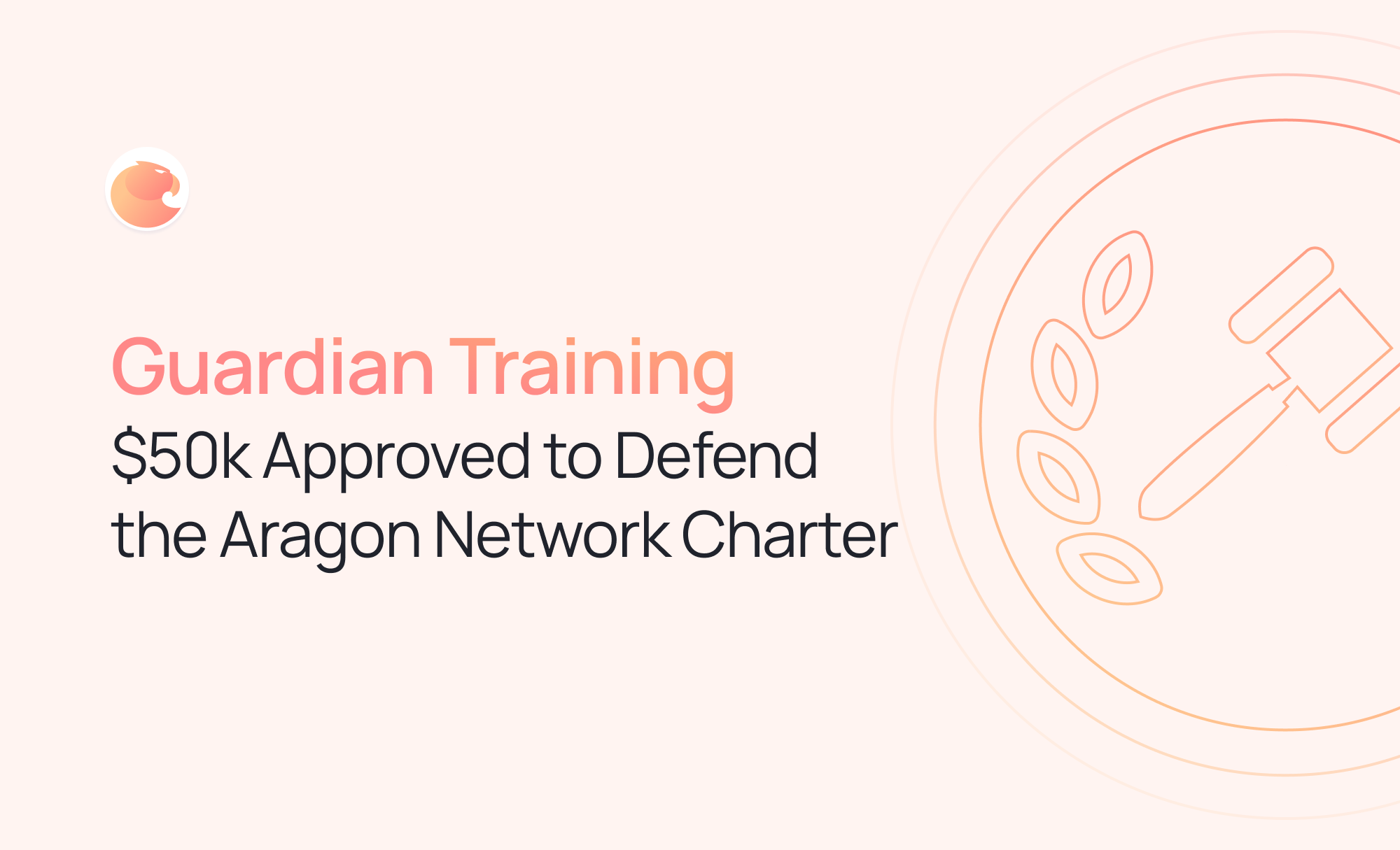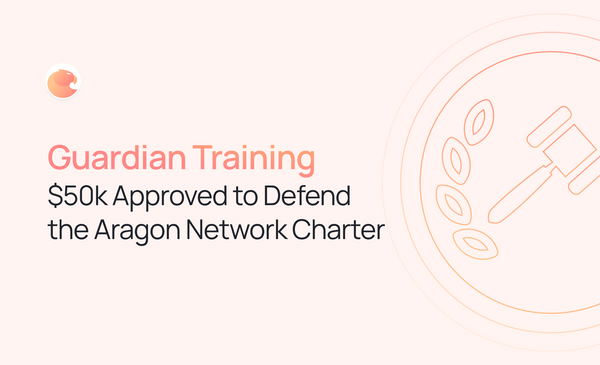 The Aragon Association has approved a budget of $50k for mock proposals and challenges to train Aragon Court Guardians on court processes and the Aragon Network Charter. Check if you have been summoned and are eligible for each 110 $DAI fee at court.aragon.org.
On September 27th the first iteration of the Aragon Network Charter was voted into force by $ANT holders on Aragon Voice. This paves the way for the Aragon Association - the legal steward of the Aragon project - to begin decentralizing the entire organization and $200m treasury into the control of $ANT holders.
Eventually, the Aragon Network (AN) DAO - as it will be known - will exhibit a full separation of powers between a decentralized legislative assembly to propose and approve proposals (i.e. Aragon Voice + social channels), an executive process to enact proposals and Aragon Court as the judicial branch to resolve subjective disputes.
To ensure the security of the AN DAO, it is vital that Aragon Court Guardians are able to correctly interpret the Aragon Network Charter and apply it in live cases when called to adjudicate challenges. Unfortunately, because of the relative youth of the court, current Guardians have seen very few disputes over the last few months so have not had a chance to learn how the court functions or how to handle the Aragon Network Charter in contentious situations. Meanwhile, we will shortly be launching the AN DAO on an Aragon Govern + Aragon Court stack and the forced minimal staking period for those who have converted their $ANJ to $ANT will finish on October 5th. Together this means that the Aragon Association recognizes the need to accelerate the maturity of Aragon Court Guardians with training on a substantial number of mock proposals and disputes.

To this end, at least 5 mock trials will be run before the 5th of October, and as many as possible within the budget thereafter. Therefore, we ask that all active Guardians be on alert by signing up for email alerts or checking in regularly at court.aragon.org to check if you have been summoned to adjudicate during this time. Guardians will earn 110 $DAI for every case they work on and there are additional rewards of 30 $DAI for summoning each Guardian and 30 $DAI for settling penalties for each Guardian. All fees may be be accumulated to minimize the gas fees for withdrawal to a single transaction.
--
Aragon is building the future of decentralized governance for Web3 communities & organizations. Deploy a DAO on Aragon Client or Aragon Govern, manage your community on Aragon Voice, resolve disputes in Aragon Court and run enterprise-level votes on Vocdoni, all within our open-source stack. See the latest at aragon.org, subscribe to our monthly newsletter, join the conversation on Discord, or follow us on Twitter.
Docs | YouTube | Telegram | Github | Reddit | Linkedin | Forum
Subscribe to The Eagle for weekly news on the Aragon Network