Aragon Association to Sponsor 2021 Gitcoin Grants Program
The Aragon Association will be sponsoring Gitcoin's new Decentralized Governance (dGov) category for two upcoming rounds of the Gitcoin Grants Program, launching on June 16th.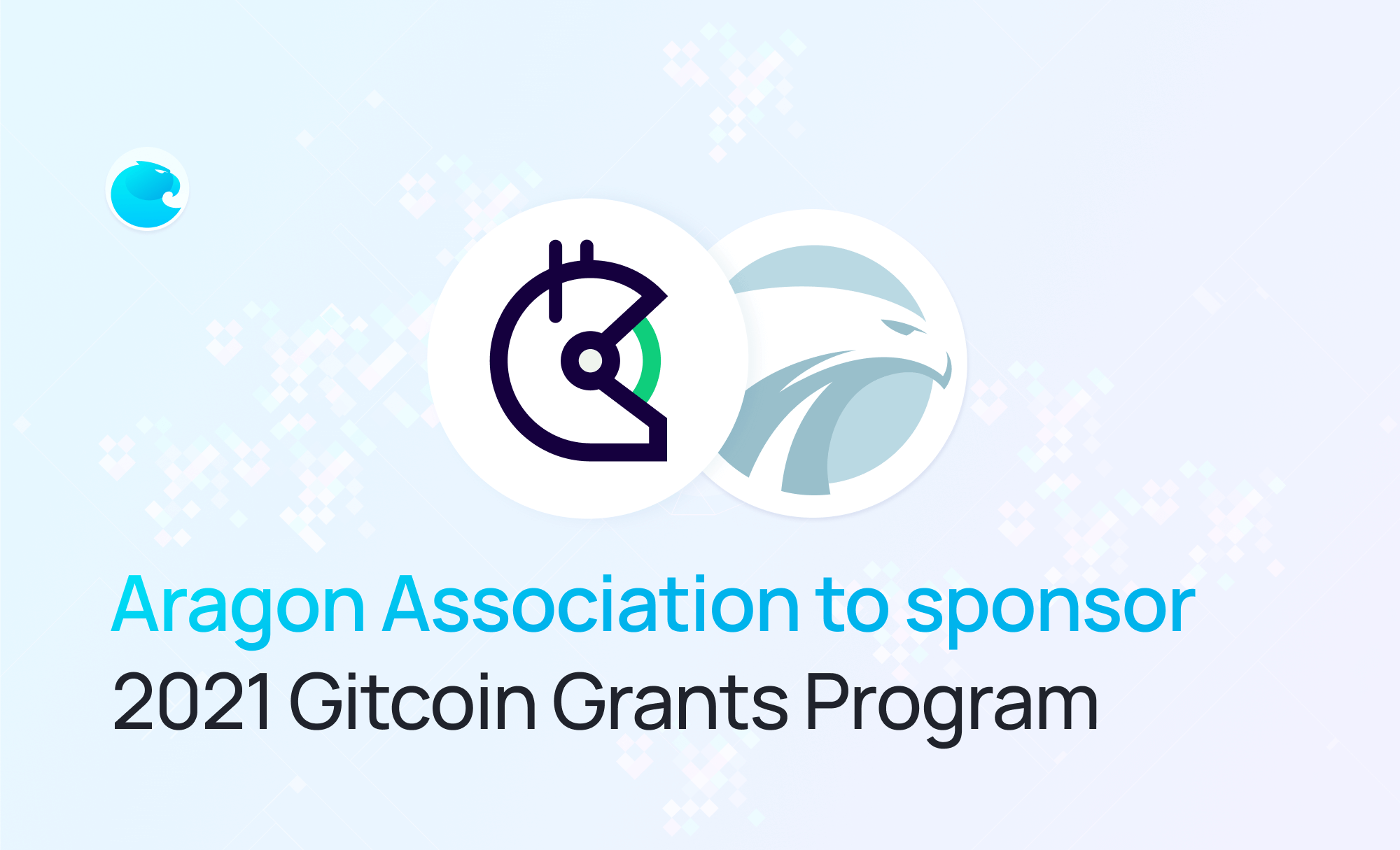 The Aragon Association is proud to announce that we will be sponsoring Gitcoin's new Decentralized Governance (dGov) category for GR10 & GR11 - two upcoming rounds of the Gitcoin Grants Program, launching on June 16th.
Over $22m in Grants

We believe that building decentralized governance infrastructure as public goods is the best way to turn the crypto renaissance into a well-organized movement that can bring capital and financial sovereignty back into the hands of individuals. Gitcoin shares this vision and has built a thriving ecosystem of developers and contributors all collaborating to build the decentralized web. Since 2018 they have distributed $22.8m to over 1600 Web3 projects and saw 300% growth in Q1 this year versus the previous quarter. GR10 will kick-off with an even bigger matching pool, making this another record-breaking boost to the industry.
50,000 DAI of Matching Funds

Developer time is a compounding force that benefits everyone in the space, so to hasten our shared vision, the Aragon Association will be donating 50,000 DAI to the matching pool, split equally between the next two rounds. All Grants will have funding matched quadratically from a portion of the total pool. Quadratic Funding is the optimal way to fund public goods in a democratic community. It works like a crowdfunding campaign that matches contributions from individuals with a pool from bigger donors. The higher the number of individual donors, the more matched funds a project gets. For example, with a $100 matching pool, if Project 1 receives a total of $100 from 1 funder, and Project 2 receives a total of $100 from 10 funders, Project 1 will receive $9 in matching and Project 2 will get $90. This helps to identify the depth of support for applications and reward them accordingly.
Gitcoin's New dGov Category

With a mission to decentralize governance, the Aragon Association is committed to helping people all over the world overcome geographical and political restrictions to economic and social collaboration. Gitcoin's new dGov category is designed to accelerate progress in this direction and provides a great opportunity for us to invest in our community, while also strengthening the broader Ethereum ecosystem. Stronger dGov solutions will make it easier for talented individuals in any location to pool their resources in a trustless and transparent way, without fear of censorship or fraud. As capital becomes borderless, it can be deployed far more efficiently to solve real-world problems and create wealth.
Last summer, Aragon hosted a 'Hack for Freedom' on Gitcoin and we have a proud history of supporting decentralized governance through our Aragon Nest Program. In 2018 we donated $88,000 in ETH to fund BrightID's pseudonymous identity solution. We also granted $188,000 to Frame - an OS-level Ethereum interface to the decentralized web and $250,000 to Level-K for Aragon's futarchy app.
Governance is a vast subject but we would welcome applications for any relevant area of innovation. This may include Ethereum infrastructure (especially layer-2), governance methods (e.g. futarchy), components and applications for voting, identity, treasury management, goal-setting / performance management, and communication.
How to Apply

GR10 is open to anyone with a vision to help build a decentralized future. Head over to https://gitcoin.co/grants to learn from online workshops, open new grants, and, if you can, help fund great projects that are contributing to the public goods ecosystem.
---
Aragon is building the future of decentralized governance. See the latest at aragon.org, subscribe to our monthly newsletter, join the conversation on Discord, or follow us on Twitter.
Subscribe to The Eagle for weekly news on the Aragon Network