DAO Global Hackathon 2023: Bounties
Find a bounty you want to work toward, gather your team, and start building! You have until May 7 to create your project.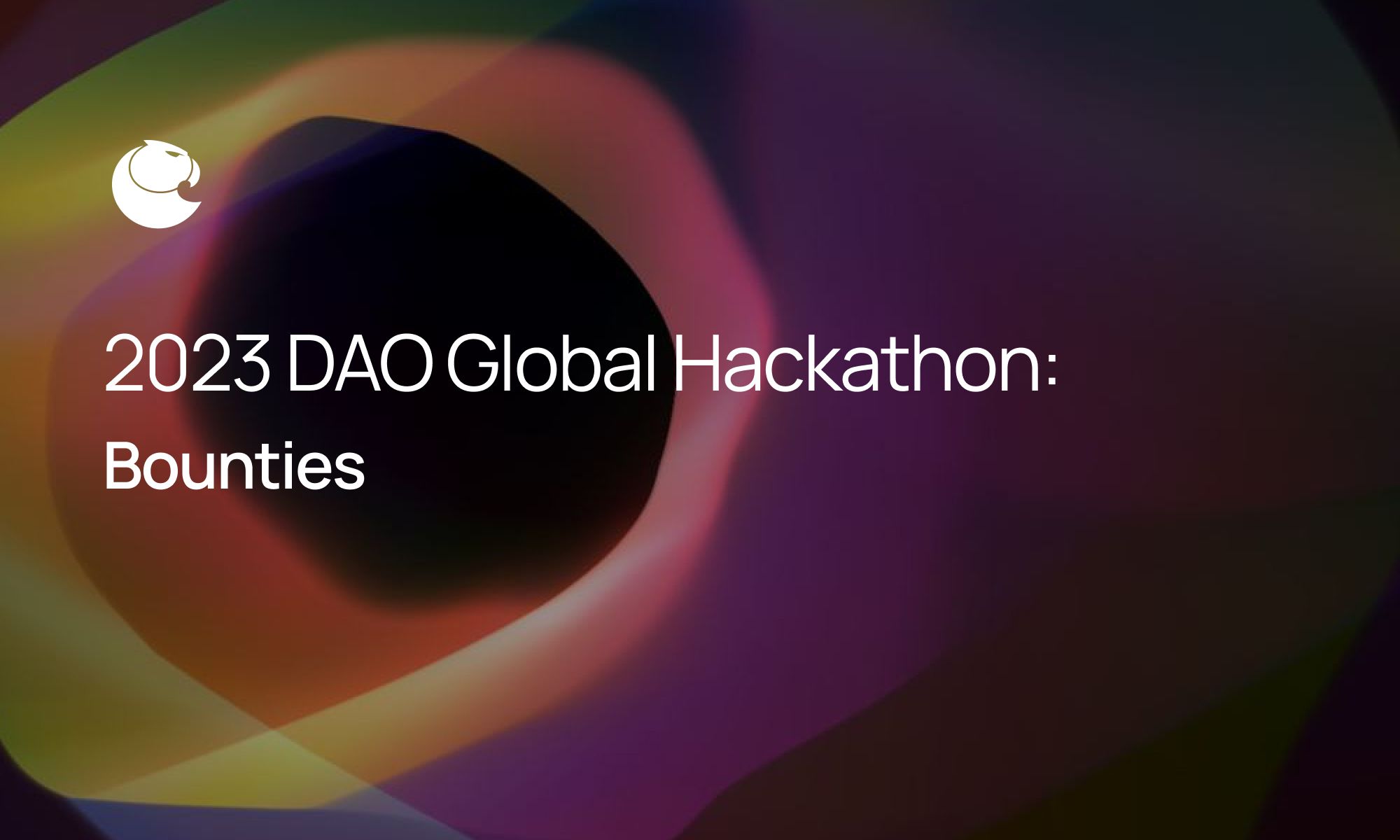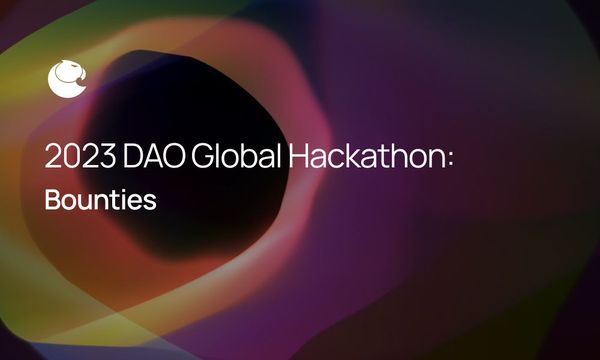 This year's DAO Global Hackathon begins on April 10! We've brought together 20 web3 industry leaders to create bounties to inspire builders like you. Below, you can find summaries of the bounties from each partner. More bounties will be added soon.
Find a bounty you want to work toward, gather your team, and start building! You have until May 7 to create your project.
If you haven't already done so, register here and join the DAO Global Hackathon Discord server!

Aragon
Best decision-making plugin
Build and publish an Aragon OSx plugin (in either testnet, Ethereum mainnet, or Polygon) enabling DAOs to make decisions. Judging will be based looking for plugins which help DAOs make the best decisions for the long-term, all while making governance fun and exciting.
USD 4,000
Most creative use of OSX
Build the most creative use of Aragon OSx, ideally unlocking a fun new use case on the way. Judging will be on the most out-of-the-box thinking and most compelling use case.
USD 5,000
Permission Management Dashboard
Build a Permission Management Dashboard for Aragon DAOs enabling DAO members to better assess which addresses hold which permissions, and what those permissions enable them to do. Judging will be done based on the project providing the better user experience and making this experience the easiest to understand for users. The tool should be built for Aragon DAOs.
USD 4,000
Best quickstart dApp for DAOs
Build a dApp allowing users to quickly spin up DAOs based on their specific use case or industry. Judging will be based on use of Aragon OSx, easy-to-use user experience, and real-world usefulness.
USD 7,000 given to one or split between two winners

DAOLens
DAO Interoperability (2)
The goal of this bounty is to create the most seamless integration between two or more DAOs, enabling cross-DAO collaboration, communication, and data sharing. With the proliferation of DAOs in various sectors, it's becoming increasingly essential to create interoperability between them. The successful integration of multiple DAOs will foster collaboration, innovation, and community growth and help advance the adoption of DAO technology.
USD 3,000 split between two winners
Mobile Notification System for Multi-Community Members (2)
The goal of this bounty is to create a mobile notification system for multi-community members that will keep them updated about important events. The winning project will be selected based on the quality, usability, and effectiveness of the notification system created. The system should be user-friendly and allow for customization based on the user's preferences.
USD 3,000 split between two winners
Blockchain-Based Storage Mechanisms
The goal of this bounty is to encourage participants to develop innovative and secure blockchain-based storage mechanisms that can be used in various decentralized applications. The winning submissions will demonstrate the ability to store data in a decentralized, tamper-proof, and scalable manner.
USD 1,000
Creating a gamification framework for community engagement in DAOs
We're seeking proposals for the creation of a gamification framework that will enhance community engagement in DAOs using DAO Manager. The framework should be designed to motivate users to participate in DAO activities and encourage collaboration among community members. The gamification framework should be flexible enough to work with various types of DAOs and should be scalable to accommodate growth in membership and activities.
USD 1,500
Utilizing AI in DAOs for Insights, Engagement, and Compensation
We are looking for innovative solutions that leverage artificial intelligence (AI) to enhance the capabilities of DAOs. Specifically, we are interested in solutions that use AI to improve insights, engagement, and compensation in DAOs. The goal of this bounty is to find new ways to make DAOs more effective and efficient by leveraging the power of AI.
USD 2,000

Kleros
A New Frontier for DAOs: Unlocking Subjective Oracles
Dispute resolution is the go-to-market branding of Kleros. However, at its core, Kleros is a Schelling-point oracle able to return rulings/answers to subjective questions directly on-chain. It's through this fundamental flow of [ask question -> get answer -> execute logic] that Kleros is able to address use cases such as escrow payment disputes, content moderation, decentralized data curation, and verification of real-world events on-chain.
Your mission is to further unlock the potential of this subjective oracle flow to solve problems, address use cases, or come up with entirely new solutions for DAOs. This can be done either through creating new arbitrable primitives using ERC-792, or using existing Kleros products like Escrow and Curate as building blocks for something new.
USD 10,000

Q
AI Safeguard for DAO Creation
With AI language models becoming more powerful and gaining traction, some legal prudence can be implemented and automated. By using an AI based plugin on a DAO-factory website, a provided free-text description of the DAO purpose shall be evaluated. Creating a DAO (using the factory-frontend) shall only be possible if no violation to the law (as defined by the frontend provider) is detected by the AI.
USD 2,000
Decentralized Contract Calls in DAO Votings
The goal of this bounty is to enable proposals including arbitrary function calls within the Q GDK and DAO Factory as an option for DAO architects to choose from.
USD 3,000
Native integration of Hats Protocol for DAOs on Q
We see immense potential in the combination of issuing or revoking a hat in correspondence to the membership of a given Expert panel, for example for the use of token gating on communication channels.
USD 4,000

Uniswap Foundation
Uniswap Governance Enhancement for the Decentralized Community (3)
The goal of this hackathon is to encourage innovation and development around Uniswap governance. Participants will focus on creating tools, services, and applications that enhance the efficiency, transparency, and inclusiveness of the decision-making process in the Uniswap community.
Prizes: 1st Prize: $6,000 2nd Prize: $3,000 3rd Prize: $1,000
USD 10,000

ENS
Kind Reminder
Notifying interested parties about governance proposals or working group meetings can be a tedious task. With the governance community spread across Twitter, email, and Telegram it would be great to give people the option to get reminders where they prefer. Not everyone hangs out in governance forums to stay up to date with notifications.
USD 2,000
Every ENS
There are over 400k DAO voters using ENS. Build something that helps improve the governance experience for ENS users or onboard more governance participants to ENS. Ideas include improving the social discoverability of governance participants with ENS, or tools to help build out profiles/identities for ENS users, or easy ENS registration tools.
USD 2,000
Discourse Delight
Build a plugin to make the Discourse forum experience more delightful for DAO forum users. Ideas include building integrations for Snapshot, Tally, Gitcoin Passport, Sign in with Ethereum or ENS.
USD 2,500

Ethermail
The cure for crypto payments anxiety (2)
The goal for this challenge is to develop a mechanism that makes it possible for someone to send cryptocurrency (ETH and ERC20) to a recipient, but for the transaction to not be finalized until the recipient takes an explicit action to claim the payment.
Winner - $2,000, Runner up - $1,000
USD 3,000

Lens
Best Lens web3 Social App (2)
Build an app with social features using Lens Protocol.
1st Place: 2000 USD, 2nd Place: 1000 USD
USD 3,000
Best Lens Integrations (2)
Best implementation of a social feature with Lens Protocol
$1,000 x 2 (two prizes, each $1,000)
USD 2,000

Ceramic
Best DAO tool created using ComposeDB on Ceramic (3)
For this hackathon, we are challenging developers to build DAO tools using ComposeDB on Ceramic. We want to see DAO tools that would make it easier to facilitate discussions and collaboration, tools that would make it easier to track user contributions and rewards members for their work, and any other tools that would make it easier to create, manage and scale DAOs.
Top 3 best projects will be rewarded $500 each.
USD 1,500

DeepDAO
Finding Ideal Wallets for Airdrops Among Governance Participants (3)
The purpose of this bounty is to create an algorithm for understanding which governance participants are best for doing an airdrop.
There can be at most 3 winners, and in cases of multiple winners, the prize money will be split between them.
USD 2,000
Onboarding DAOists to DeepDAO (3)
This bounty is a marketing challenge. Please submit a list of the people you referred along with wallet addresses and links to their DeepDAO profiles.
$500 (first prize), $300 (second prize) & $200 (3rd prize)
USD 1,000

Cyberconnect
Middleware Monetization Selector
This bounty is for creating a dApp/frontend to showcase the various kinds of middlewares supported by the CyberConnect protocol.
USD 2,000
Token Gated Forum
Create a forum dApp (like reddit) powered by CyberConnect protocol.
USD 2,000
Most Innovative Middleware Use Case
Create one or more new middleware modules for either SubscribeNFT or EssenceNFT.
USD 2,000

Lit Protocol
Best Use of Lit Actions and PKPs to Automate DAO Onboarding or Governance
Improving the user experience in web3 is essential for the long-term success and adoption of decentralized technology. By making it easier and more intuitive for users to engage with the ecosystem, we can help create a more open, transparent, and user-centric internet for everyone.
Some ways that you can utilize Lit in order to create seamless onboarding or governance is through programmatic signing. Lit is the underlying infrastructure where developers can set up programmable signing based on on-chain and off-chain information.
USD 5,000

NFTR
The first NFT event indexer
The task at hand is to build a proof of concept indexer that indexes and displays examples of the events above, and anything else the developer might find interesting.
USD 3,000

Snapshot
Voting strategy for non-financial governance
It means that user's voting power should not be calculated on the basis of the tokens they hold but by other metrics like badges received upon attending events, Github contributions, participation in Discord / Discourse discussions - possibilities are endless!
USD 500
Voting with Metamask Snap
Create a Metamask snap that enables wallet users to cast votes on Snapshot through the wallet.
USD 1,500
Dune Data Dashboard
The goal of this hackathon is to create a new data dashboard that provides a deep dive into the DAO ecosystem.
USD 1,000
Plugin - create a better voting experience
Create a plugin which enhances the voting process for Snapshot users.
USD 2,000
Mailchain
Composable Developer Components for DAO Tools and Platforms to Integrate Web3-Native Communication (3)
This challenge is to build or extend useful and composable components for developers, powered by the Mailchain SDK, for native-communication features in web3 DAO tooling or platforms.
1st Prize: $900 USDC / 2nd Prize: $400 USDC / 3rd Prize: $200 USDC
USD 1,500
Best Application for Enabling Web3-Native DAO Communication and Coordination
This challenge is open to anyone building applications that enable and improve Web3-Native DAO communication and coordination.
USD 600
Build or Extend DAO Tools and Platforms to include Web3-Native Communication
This challenge is to build or extend DAO tools or platforms to include web3 communication features using the Mailchain SDK.
USD 600
Contributor Posts: Developer Tutorials for DAO Communication Use Cases (3)
This challenge is open to anyone who would like to write a developer tutorial with code samples that demonstrates how to use the Mailchain SDK for DAO-specific use cases.
Bounty Prizes: 3x 100 USDC
USD 300
Pocket Network
The Gateway to Credential-Weighted Voting in Snapshot
Gateway is a protocol for issuing and managing verifiable credentials. Pocket Network plans to use Gateway for the next generation of our proof-of-participation governance model. A key building block for this is enabling Gateway credentials to be weighted in Snapshot strategies. This integration will enable Pocket Network to level up the UX of our governance model and make it easy for any DAO to emulate our approach.
USD 4,000
Credentialing Discourse with Gateway
Gateway is a protocol for issuing and managing verifiable credentials. Pocket Network plans to use Gateway for the next generation of our proof-of-participation governance model. Integrating Gateway credentials with Discourse will make credentials a more integral part of a DAO's social fabric and ultimately drive more engagement.
USD 4,000
---
Join us to build exciting tools for DAOs!
You can find more detailed descriptions of the bounties here. Check back next week for more bounties from other partners. We can't wait to see what you build!
Join the Hackathon Discord Server
Subscribe to The Eagle for weekly news on the Aragon Network