DAO Global Hackathon - Open Lane
"So far, we are seeing ideas around Discord bots, project funding apps, crowdfunding models, meta-DAOs and educational content, as well as projects that touch upon reproductive health, agriculture and the adult industry."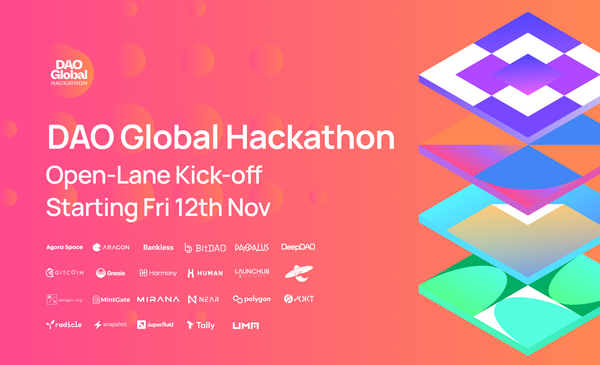 The DAO Global Hackathon is the largest Web3 collaboration ever hosted on Gitcoin. Since March '21, the total Assets Under Management for DAOs has jumped from ~$55m to over $14bn: a 250x in less than 9 months. This is your chance to get in on the ground floor and connect with like-minded cryptonauts to build the infrastructure of this ecosystem, as well as the tooling that will make DAOs more open, accessible, interoperable, and multi-chain.
Join the Hackathon
🏴‍☠️ Bounty phase
During the bounty phase we had over 80 projects for 30 bounties, which was incredibly exciting, considering that these bounties were at the frontier of DAO tooling. Proving people's humanity, integrating Slack apps for DAOs, creating token-gated NFT DAOs... the list of cool projects that surfaced thanks to the bounties was super inspiring and $60k in prizes has already been distributed to submission winners.
🛣 Open Lane
Since Friday November 12th it has been clear blue sky in the Open Lane!
We have partnered with 21 industry OGs to put together a prize pool of $144k+ across four tracks: Multi-chain, Core DAO Tech, Finance & Operations, and Community & NFTs. Each track will be judged by well-respected industry peers and to support your learning, we'll be running workshops for the first couple of weeks.
So far, we have seen ideas around Discord bots, project funding apps, crowdfunding models, meta-DAOs and educational content, as well as projects that touch upon reproductive health, agriculture and the adult industry. For more ideas of use cases for DAO tooling, check out the following resources:
Incentive Design & Tooling for DAOs
15 Ways the World is Being Transformed by DAOs
⏰ Timeline
Participants submission deadline is December 10th, 2021.
Judges review deadline is December 15, 2021 (judges can ask teams for clarifying questions between 10th and 15th of December).
Closing virtual event on December 17, 2021.
⚡️ Valid Submissions
All valid submissions must be submitted through a form embedded on Gitcoin, which requests:
Project name.
Submission link (this may be a prototype link (Figma, InVision, etc), a Github repository and/or the website itself.
Short pitch.
Pain.
Target audience.
Solution.
Recorded video demo of the project and short pitch (max 5 mins).
Date of commencing working on the project (for the fair assessment of projects).
Wallet(s) to send payment to if the project wins.
Person to contact for the judges in case of questions.
Name.
Email.
Any additional documents the team wants to have reviewed.
👀 The project submitted must be open source at the point of submission and the repository should remain open-source after the Hackathon has finished. However, the codebase may be forked and a new version can be a private project.
👩🏾‍⚖️ Judging Criteria
Judges will be invited to vote on each project based on the following criteria. For each of the themes, they will vote on a range from 1 - 5.
Originality
Does it do something entirely novel, or at least takes a fresh approach to an old problem?
1 - Idea has been built before.
5 - Idea is unique and original.
DAO and Track relevance
Does this project adhere well to this track of DAO tooling? Does it refer back to this theme fully or partially? Would you have placed it anywhere else?
1 - Not addressing the needs of DAOs.
2 - Better suited to another track.
5 - On the best track for this project.
Execution
Is the project usable in its current state? Is the user experience smooth? Does everything appear to work? Is it well designed?
1 - Buggy, doesn't run.
2 - Working design prototype, but no working code.
3 - Working platform, built on no-code.
5 - Executable on testnet or ideally even mainnet.
Usefulness
Is the project practical? Is it something you can perceive DAOs actually using? Does it fulfill a real need people have or touch on a big pain point?
1 - No use within the current DAO ecosystem.
5 - Strong plausible usage by DAOs.
Presentation
How compelling was the presentation for the project? Demo? Slides? Pitch?
1 - The pitch was boring and the demo wasn't successful.
5 - Pitch and demo were attractive and compelling.
💰 Prizes
Prizes will be distributed as follows for each of the four tracks:
First Place: $21k
Second Place: $10k
Third Place: $5k
If there is only one winner for a track then that project will receive the entire $36k.
The Hackathon will retain no ownership after a project has won and the prize has been given.
All experience levels are welcome to participate, so if you are a developer or designer and would like to take part, dive into the Discord or find a team using our Hackathon Match-Making database.
Share your project ideas on Twitter using the hashtag #DAOGlobalHack for a chance to win a ton of swag and bonus prizes:
Join the Hackathon
Subscribe to The Eagle for weekly news on the Aragon Network