DAO Global Hackathon - Thank You!
A huge "Thank you!" to everyone involved, plus, next steps...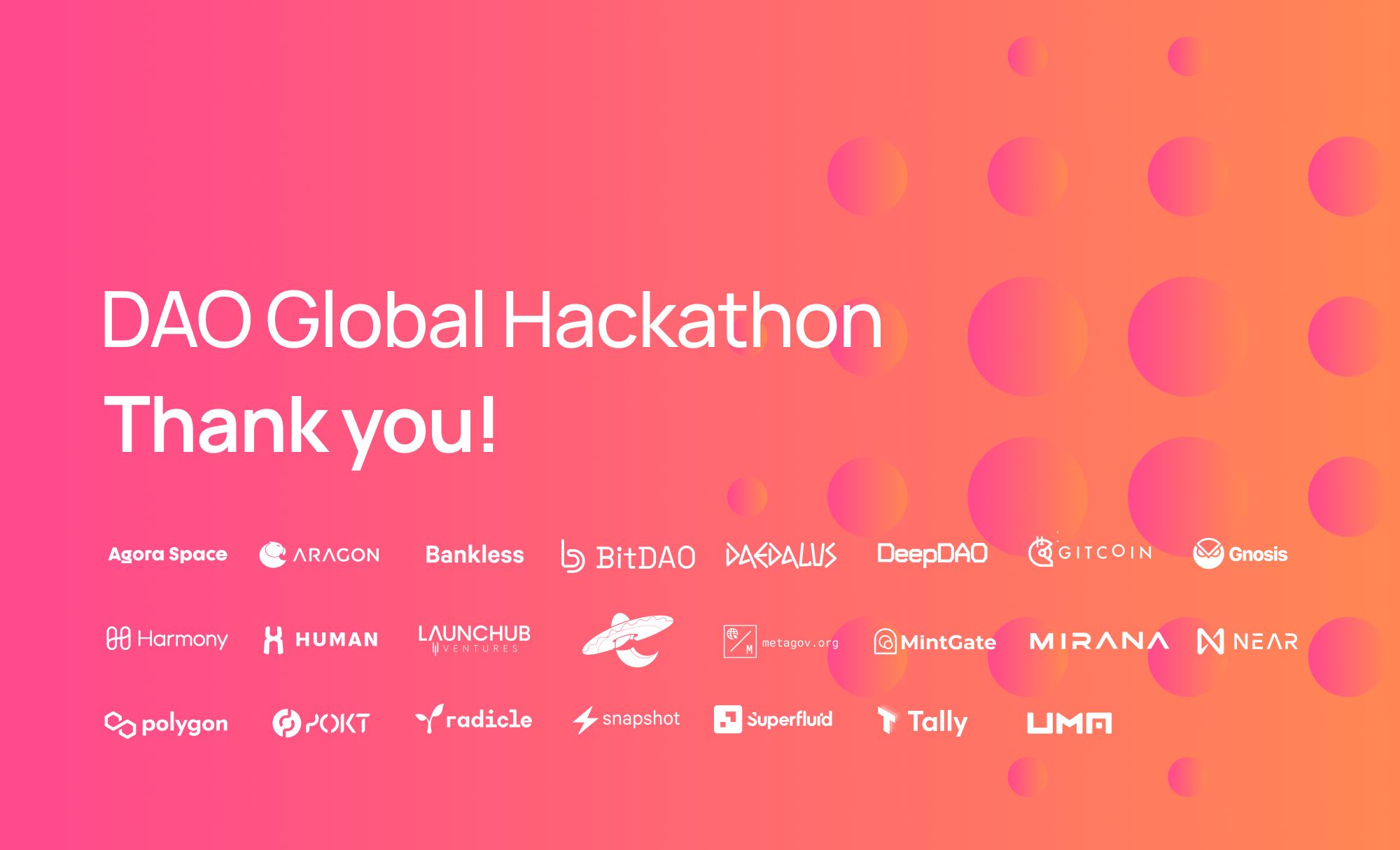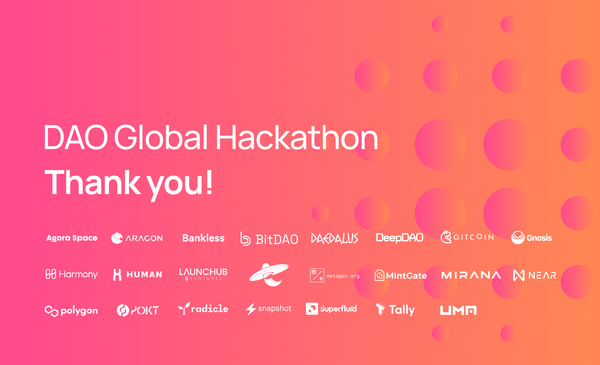 As we reflected in our 2021 Retrospective, being a part of the DAO Global Hackathon was one of our highlights of the year and we are delighted that it was such a huge success. After 36 projects and 30 bounties were submitted, 12 winning teams were chosen by the judges and shared a prize pool of over $200,000. In case you missed it, here is the list of winners from the four prize tracks; be sure to check out their projects!:

⛓ Multi-chain:

👯 Community & NFTs:

💰 Finance & Ops:

👩🏻‍💻 Core DAO Tech:
In addition, to accelerate the ecosystem, Draper University has given full scholarships to 2 team members from the Contrib and Cofund teams. Congratulations to all the winners!
We are incredibly grateful to everyone who participated and the sponsors, judges and partners who gave their time, boundless enthusiasm and expertise to the DAO ecosystem via the Hackathon. Thank you all!
What's Next?
Hopefully you've all had a good winter break and time to plan your next project because we're not stopping there! The Hackathon Discord server has over 700 members and in the coming weeks we will work to evolve the space into a community for DAO tooling builders who want to support one another and grow together. Aragon will be organizing biweekly hangouts on DAO tooling topics but there is an opportunity now for the community to take ownership of the space and use it as a place to incubate ideas, recruit DAO talent, and share news about other hackathons. As always, participation is permissionless, so jump in and make it happen, but feel free to reach out to juliettech#4927 on Discord if you need any help or have an idea for how the server could further benefit the DAO ecosystem.
Happy hacking in 2022!
--
Aragon is building the future of decentralized governance for Web3 communities & organizations. Deploy a DAO on Aragon Client or Aragon Govern, manage your community on Aragon Voice, resolve disputes in Aragon Court and run enterprise-level votes on Vocdoni, all within our open-source stack. See the latest at aragon.org, subscribe to our monthly newsletter, join the conversation on Discord, or follow us on Twitter.
Docs | YouTube | Telegram | Github | Reddit | Linkedin | Forum
Subscribe to The Eagle for weekly news on the Aragon Network