DAOs as Purpose-Led Organizations
"By incorporating as a DAO, any purpose-led organization can be equipped with the tools to allow horizontal leadership to flourish..."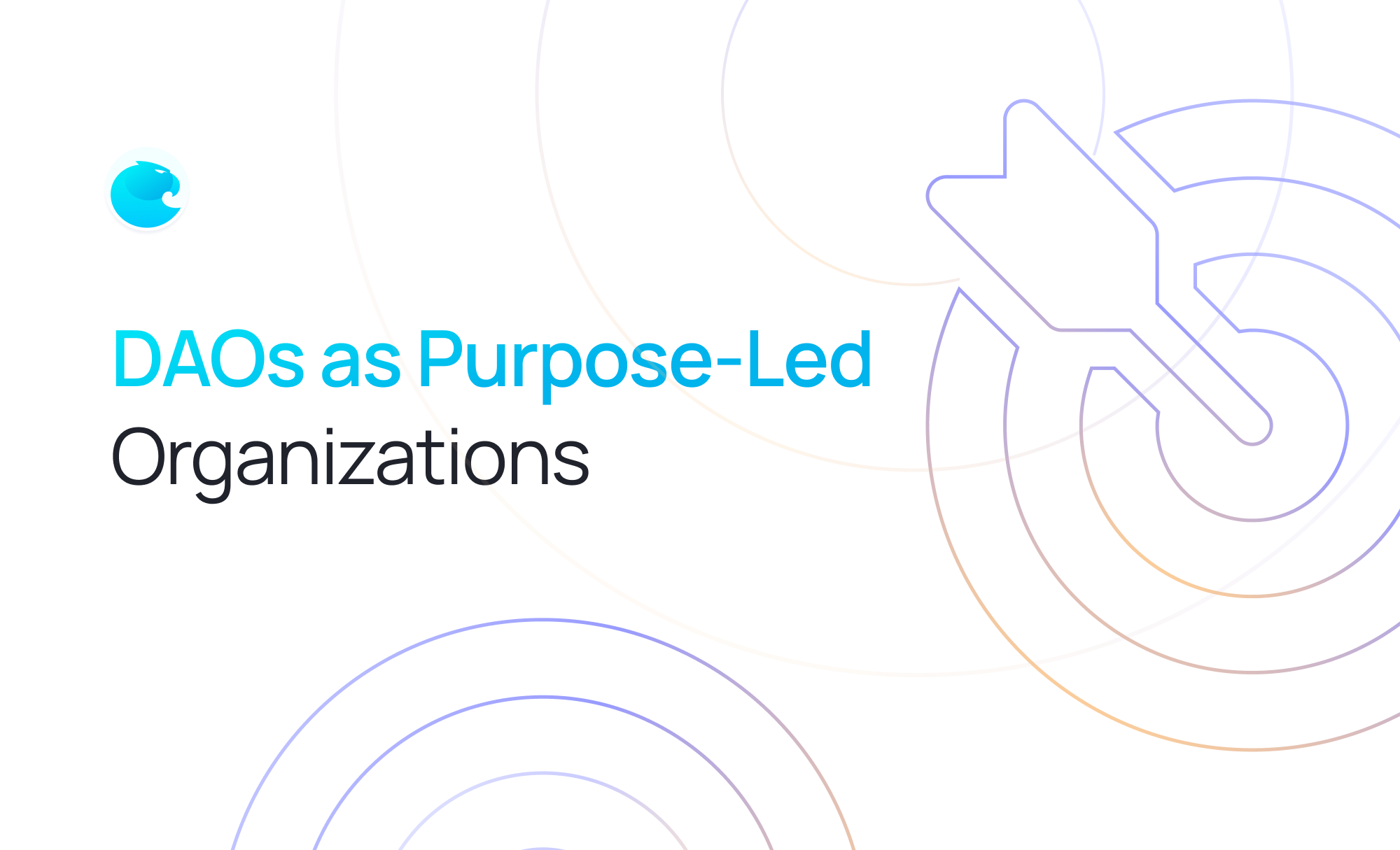 Corporate structure drastically affects the overall performance of a company. From strategy execution to internal culture and fulfilling client expectations, organizations can architect competitive advantages directly from their blueprints. An inclusive structure is especially important for Purpose-led Organizations, which, in pursuit of social objectives and non-financial goals, must have a compelling 'What, Where, When, Why, Who, and How' to motivate contributors.
Until recently, aligning incentives within a movement - while maintaining motivation and economic sustainability - has been a churn of innovation. Yet, in saying that bona fide governance should "permeate all spheres of life, particularly where the interest of the individual could conflict with the greater common good", Malta-based legal firm Ganado Advocates are inadvertently invoking Decentralized Autonomous Organizations (DAOs): online communities, usually with their own membership 'token', that jointly control a cryptocurrency wallet to pursue common goals, such as running a business or charity. By incorporating as a DAO, any purpose-led organization can be equipped with the tools to allow horizontal leadership to flourish, by economically incentivizing a shared initiative. This evokes the best that humanity has to offer: the innate desire to contribute to something larger than ourselves and beyond profit.
How to Build a Purpose-led Organization
As identified by EY Ireland, building a purpose-led organization requires several prerequisites:
Belief
Engaged leadership
Integrated purpose
Clear communication
Aligned incentives & performance indicators
Empowered individuals
Established core values
As they exist right now, DAOs are configured to satisfy all of these requirements:

Belief
DAOs are permissionless to join and require the purchase of a governance token to participate. This structure alone is self-selective of members with a proactive belief in the DAO's founding purpose. On Aragon Govern, that founding purpose is enshrined in a constitutional Agreement that outlines a DAO's purpose and to which members can be held accountable in Aragon Court.

Engaged Leadership
An engaged membership - motivated by a shared purpose - naturally produces engaged leadership. This is no more evident than when the first action of a leader is to wind down the legacy organization that preceded the DAO, as Shapeshift's founder, Eric Voorhees did earlier this year.

Integrated Purpose
Traditional hierarchical structures, by denying lower-level employees the resources to enact purposeful goals, tend to suffocate innovation. By the same token, upper management are not accountable to anyone below them, which can create resentment when projects are badly run or promises are not kept. In contrast, DAOs are horizontal organizations with very few - if any - command-and-control structures. Members are free to call votes on proposals at any time and if they are tied to on-chain executions, a successful vote will deterministically release funds to the proposed project or department. In this way, the purpose that emerges from the actions of DAO members is directly integrated into the organization's operations.

Clear Communication
Diverse communication on channels such as Discord or Telegram is integral to the day-to-day operations of a DAO. However, progress is only made when conversations are distilled into concrete proposals for members to vote on; only a successful vote will result in the release of funds. This inherent feature of DAOs is a latent, disciplining factor on all internal communications and naturally permeates the organization's culture with expectations of clarity and concision.
Aligned, Consistent Incentives & Performance Indicators
DAOs replace most of the operational guts of an organization with a software stack. That being the case, addressing operational issues such as incentive mechanisms and performance indicators can be as simple as installing a plugin. A recent example of this in practice was when Aragon partnered with UMA Protocol to integrate Key Performance Indicator options into Aragon Govern to incentivize DAOs to migrate their treasuries from Aragon Client.

Empowered Individuals
DAO members are fully empowered to suggest, vote on and - provided the proposal has passed - execute proposals using a variety of tools. For example, Aragon Voice enables any ERC20 token holder to petition other token holders with proposals to benefit the network.
It is notable that the pursuit of collective goals within DAOs is strictly voluntary. This eliminates the political angst that has plagued grand historical attempts to pursue collective goals. Because DAO membership is permissionless and the safeguards against centralization are cryptographically enforced, the power within DAOs is truly distributed and collective goals are not pursued at the expense of individual freedom.

Established Core Values
Core values such as the decentralization of power and universal suffrage are programmed right into Aragon's tech stack. This means that projects built upon it necessarily inherit those core values. This is hugely significant for pioneering projects such as Zebpay's female-led DAO, which is empowering women to build capital in a traditionally paternalistic society by participating in the male-dominated tech sector. As ecosystems such as Aragon's grow, the positive feedback will only increase and even more sympathetic projects will transition into DAOs, further reinforcing those core values.
Build your own Purpose-led Organization
Building a purpose-led organization as a DAO is surprisingly easy compared to legacy methods, with very little administration and almost no fixed costs. If you are looking for inspiration, learn how Elimu started a charity (from their bedroom) and if you have questions about the technology, we have the following resources:
What is a DAO?
How to DAO: Answers for Beginners
If you are ready to dive in and set up a DAO for yourself, click the button below and reach out on Discord if you need any help.
Start a DAO
--
Aragon is building the future of decentralized governance for Web3 communities & organizations. Deploy a DAO on Aragon Client or Aragon Govern, manage your community on Aragon Voice, resolve disputes in Aragon Court and run enterprise-level votes on Vocdoni, all within our open-source stack. See the latest at aragon.org, subscribe to our monthly newsletter, join the conversation on Discord, or follow us on Twitter.
Docs | YouTube | Telegram | Github | Reddit | Linkedin | Forum
Subscribe to The Eagle for weekly news on the Aragon Network