How Aavegotchi Used Aragon to Build a Metaverse Gaming Protocol
"We want to build crypto experiences together as a DAO" - Jesse, cofounder of Aavegotchi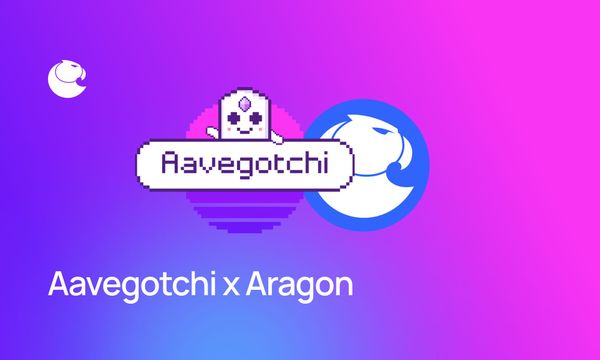 Aavegotchi was originally founded to build an interactive crypto pet, and has now evolved into an open-source, community-owned gaming protocol that game studios and developers can build on top of.
"We want to build crypto experiences together as a DAO," said Jesse, cofounder of Aavegotchi. "It's like coloring in a coloring book. We just put the pages down."
Aavegotchi is one of the most active DAOs in the ecosystem today. From game developers  to Gotchi enthusiasts to guilds building their own experiences within the Gotchiverse, everyone votes on the direction of the game and helps shape it themselves.
To get their start, they used the Aragon fundraising template to fund their treasury and distribute GHST tokens in a way that softens volatility.
Today, we're going to explore how Aavegotchi got started, how they use Aragon to power their DAO, and what their future plans for the gaming protocol are.


What is Aavegotchi?
"Aavegotchi is the first of its kind, a DAO born NFT collection built around smart contract maxis."
Building an interactive crypto pet

Today, Aavegotchi is a metaverse gaming protocol built on Polygon. But their beginnings were much simpler than that. "We just wanted to build a better crypto pet," said Jesse, cofounder of Aavegotchi.
It was 2020, pfp's hadn't become popular yet, and crypto kitties were still the dominant crypto pet. Jesse and his cofounder wanted to build a new type of crypto pet that didn't just sit in your wallet. They wanted to create an interactive pet that had to be taken care of, like a classic tamagotchi.
While doing a hackathon with Aave for another project, Jesse got the idea for crypto pets built with Aave. He saw an opportunity to use the powerful yield-bearing assets in Aave and the recognizable ghost brand, and combine it with his dream of building a crypto pet.
So, Aavegotchi—Aave plus Tamagotchi—was born! They created 10,000 ERC-721s that look like pixelated, colorful ghosts.
"It's a hybrid: pfp's plus interactivity. It's proof of attention," Jesse said.
The kinship score is a key part of the Aavegotchi protocol. It shows how active you are with your pet. Everyone starts with a base score of 50, which goes up or down based on how much you interact with it.
Every 12 hours (calculated in Polygon block time) you can pet your Aavegotchi to increase its kinship score. On the other hand, if you neglect your Aavegotchi for more than 24 hours it will start losing one kinship point per day.
If your score goes down, the Aavegotchi will start scowling at you and will show a label like "scorned." To get your score back up, you need to continuously interact with it over the course of many days or weeks, depending on how long you neglected it.
An on-chain piggy bank, powered by Aave

There are incentives to continue interacting with your Aavegotchi. 20% of Aavegotchis, are eligible for Rarity Farming rewards. During Rarity Farming seasons, the most active Aavegotchi holders get airdrops of GHST tokens.
"If you take care of your Aavegotchi, your Aavegotchi takes care of you," said Jesse.
There are even more incentives to hold your Aavegotchi, powered by the Aave protocol. Each Aavegotchi is like a piggy bank on-chain. It's tied to a specific token, which also gives the Aavegotchi its symbol on its forehead and the theme. Inside that pet are Aave tokens. So, an Ethereum Aavegotchi would have aETH that accrues interest via the Aave protocol, and would have an Ethereum symbol on its head to show what token is inside it.
So, the longer you hold tokens inside your Aavegotchi, the more interest they accrue. It's incentivizing holding the Aavegotchi rather than trading them. These tokens are called "Spirit Force." You can add more Aave tokens to your Aavegotchi if you'd like to grow that piggy bank.
Stacking NFTs: Wearables and customization

You can customize your Aavegotchi to your liking. For example, you can name your Aavegotchi, similar to getting an ENS domain. But you can customize the appearance as well through the use of wearables.
Each gotchi is an ERC-721, but you can stack ERC-1155s on top of it. These wearables change the appearance of your pet. "You can merge composable NFTs on top of each other with a transaction, and basically bind them together," said Jesse.
The types of wearables you choose also change your gotchi's rarity score. "You're competing for your rarity score based on the wearables you choose for your Aavegotchi," he said.


What is the Aavegotchi gaming protocol?
"It's like an on-chain clash of clans."
Aavegotchi has been massively successful since its launch, becoming one of the most recognizable crypto games in the ecosystem and raising over $18 million for the DAO treasury. But the team didn't want to stop there. They had a vision for phase two of Aavegotchi: a metaverse gaming protocol run and governed by the Aavegotchi community.
Enter the Gotchiverse

"In the last year, we've been able to deploy a full browser-based metaverse game engine," said Jesse. He described the Gotchiverse as being a blank canvas for the community to fill in.
The Gotchiverse consists of land parcels, which are NFTs. Players can build whatever they want on top of the land parcel, making it more valuable.
Players can also farm their land parcels for in-game tokens, which they can use to craft NFTs. Being able to farm tokens from a piece of land in the metaverse is unique to Aavegotchi, and might be the first instance of land farming in the metaverse.
The Gotchiverse has already grown to include over a dozen guilds planning to build their own "lodges," or clubs on parcels of the metaverse land that you need certain wearables to enter. These guilds are completely autonomous with their own treasuries, brands, and communities.
The DAO has lots of plans for expanding the protocol in the future, particularly through partnering with gaming studios to build on top of the protocol. They're excited about building a game that existing studios will come in and build on top of. And, it's all web3-native and decentralized from the beginning.


How does the Aavegotchi DAO work?
"We build web3 games in web3 ways."
Aavegotchi follows the mantra to build web3 games in web3 ways. "We think it's advantageous to have decisions made by a DAO about where to go in game development," said Jesse. This increases community engagement with the DAO, because the decisions they're making are fun.
"We have one of the most active DAOs in the world, because everyone wants to be a game developer at heart," Jesse said. Many of the most active DAO members are professionals—doctors, lawyers, and people who don't work in web3—who moonlight as game developers because they're so passionate about it.
For voting, the DAO uses Ghost tokens, $GHST. The more GHST you hold, the more your voting power increases.
But GHST isn't the only way to gain voting power in the DAO. GHST is also the currency in the game that you use to buy more wearables. So, on top of your GHST holding, your voting power is calculated by the wearables and other Gotchiverse NFTs you hold like land parcels.
To pass a proposal in the DAO, you first must start by posting on the DAO's forum and getting consensus. After people express interest and vote in a poll, you can move the proposal to Snapshot to vote. If it passes quorum, the proposal moves to a core vote, which is binding.
To keep the community active in votes, the Aavegotchi team has also gamified the voting process. If you vote in a proposal that reaches quorum, no matter which side you voted for, you get XP for your Gotchis in return. The XP rewards increase for binding core proposals. This helps keep voter participation high while making governance fun.


How does Aavegotchi use Aragon?
"We used the Aragon fundraising template and built a custom UI."
The Bonding Curve
The Aavegotchi team used the Aragon fundraising template to create a bonding curve for GHST, launched in September 2020. It's a GHST/ DAI pool, so if you put DAI into the pool, GHST is minted and sent to your wallet. If you sell GHST, it burns the tokens and returns the equivalent DAI.
The team chose a bonding curve because it keeps the token price more stable, which is useful for overall community sentiment. GHST holders don't have to worry about the token dropping 20% overnight, which gives members peace of mind during the bear market. But the softened volatility also means that speculators don't see as much upside when investing in GHST. There are tradeoffs to the approach, but overall the team said it's been successful for community building.
They built a custom UI on top of the Aragon fundraising template to fit with the Aavegotchi branding.
This year, the Aavegotchi DAO might be voting to deprecate the bonding curve so they can de-risk from stablecoins. The possibility of stablecoin regulation and growing bear market uncertainty has put their DAI treasury at more risk than they're comfortable with.
"DAI is the only decentralized stablecoin that works, and we hope it stays that way," said Jesse, who said they remain huge fans of the MakerDAO protocol in general. "But if DAI de-pegs tomorrow, the DAO loses its treasury."
Overall, the DAO wants to decrease dependencies they may have on the success of other projects. To remain agile and adaptable, they might derisk their treasury by diversifying across a variety of stablecoins and tokens, rather than holding the entire $18.5 million in DAI.
If the DAO does vote out the bonding curve, $GHST would have a fixed supply with no burn or mint. It would have very simplified tokenomics, and price discovery would be more organic and possibly more volatile. But, that's up to the market to decide.
The DAO treasury
Their GHST bonding curve has raised $18.5 million over the two and a half years it's been in place. This is the majority of the DAO treasury, and is all held in Aragon smart contracts.
The remainder of the DAO's treasury is decentralized across a variety of multi sigs controlled by different task forces, all of which have different areas of focus. The task forces apply for funding from the DAO, and upon receiving it, they have full discretion over how to distribute those funds.
The DAO Treasury Force (DTF) is one example of a task force, which Jesse described as an incubator for the protocol that primarily funds developers to build new features. The DTF has full discretion to allocate those funds—you don't need the entire DAO to vote on it. This keeps the DAO agile and game development fast.


Where is Aavegotchi going in the future?
"We're actively pursuing game studios to build with Aavegotchi as their base layer."
The Aavegotchi DAO is working hard to grow the functionalities of the Gotchiverse game and increase their userbase. They're seeking to address people who are already in crypto, such as the 1 million MetaMask monthly active users.
"We see it as a virtual video game console," said Jesse. "We want more studios and more developers building on this."
As far as their DAO, the community keeps going strong, even in the bear market. The passion they have for developing games and growing the Gotchiverse is probably a big part of this.
"We build web3 games in web3 ways," said Jesse. He mentioned that Aavegotchi is the complete opposite of a gaming studio that sprinkles NFTs on top. Instead, they're web3-native at their core and have been since the beginning.
"We've been a DAO since day one, thanks to Aragon."


Enabling adaptable, modular DAOs with our new protocol
We're building a new protocol and App that enables more adaptable, modular DAOs, so your organization can grow with you. The Aavegotchi DAO is a great example of an organization that is continuously iterating and changing, and their community and product is even stronger for it!
To build a DAO like Aavegotchi, get started with the new protocol launching this spring. Learn more about the protocol or check out our contracts on testnet!
Subscribe to The Eagle for weekly news on the Aragon Network