New Aragon Stack Launching at EthDenver
Our new tech stack is going live on mainnet during EthDenver, and we can't wait to share it with you!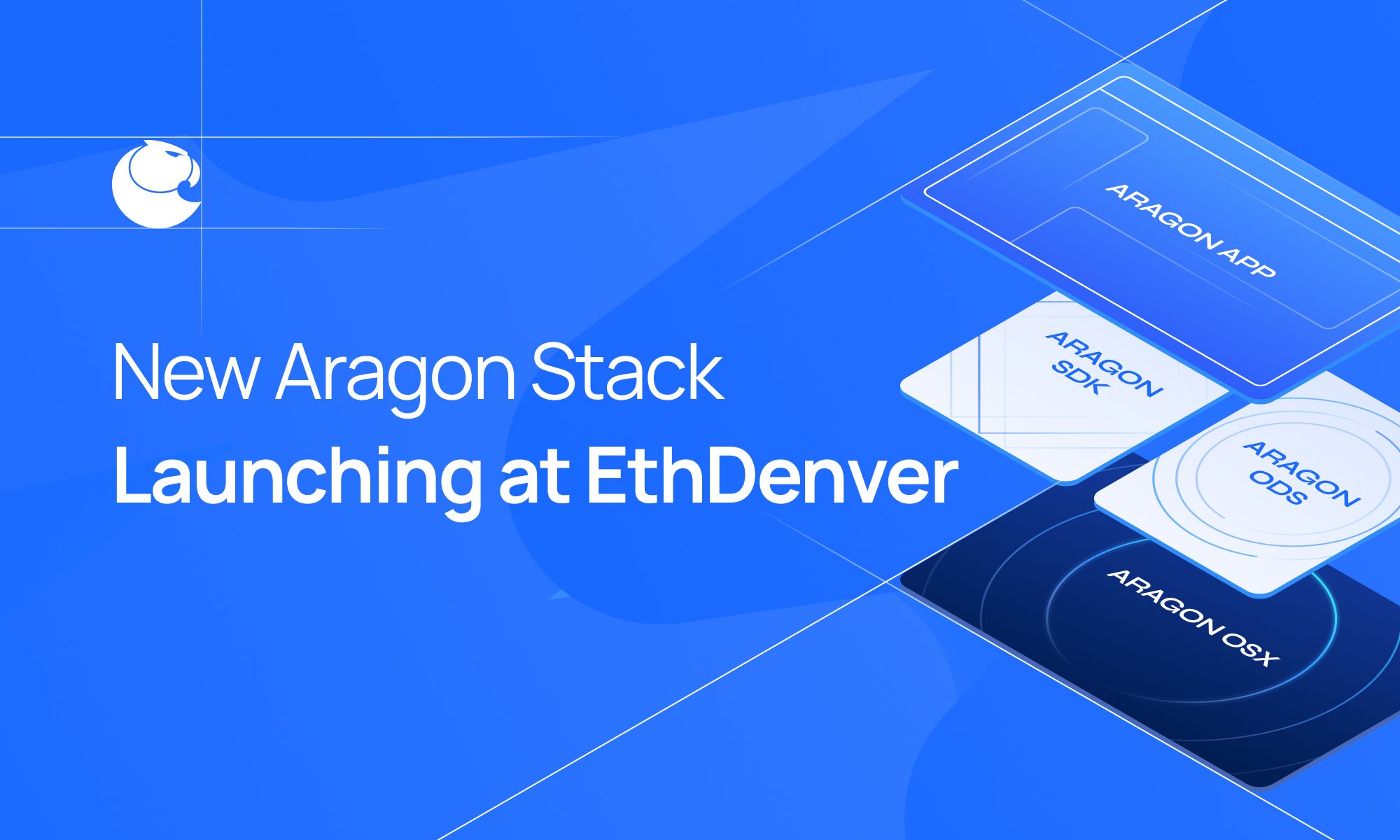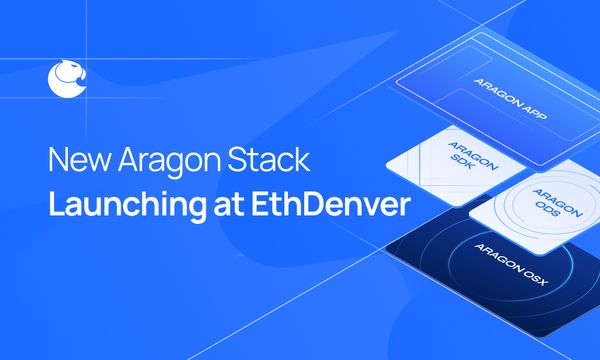 Our new tech stack is going live on mainnet during EthDenver, and we can't wait to share it with you!
Here's the TLDR of where to find us at EthDenver:
Workshop: "Building the next DAO wave" March 1, 5:00- 6:30 pm MST, Vīb Hotel Ballroom, 3560 Brighton Blvd.
Booth: March 2-5, all day, DAO Town in the EthDenver Events Center
Keynote Speech: "Rebuilding the foundation for DAOs" March 2, 1:00 pm MST, DAOs + Community Stage, National Western $SPORK Castle | 4655 Humboldt St Denver CO 80202. Speaker: Juliette Chevalier, Developer Advocate
Bounties: Virtual, ongoing through the entire event.
Workshop: Building the next DAO wave
Come build a DAO on our new stack! Our protocol and SDK make it easy to build any type of organization you can imagine, so you can use it to build the next wave of DAOs!
We'll walk you through building a DAO on testnet using the new Aragon OSx protocol. Come by to connect with other developers, grab some pizza, and hang out with the team in a casual setting.
We will also have lots of Goerli ETH available, so get ready to deploy DAOs on testnet!
Booth: Make DAO History
Where will DAOs be in five years? Ten? What will you build next? Let's talk about it! Come tell us how you're making DAO history at our booth in DAO Town. We'll have ongoing product demos, so you can see the Aragon App and OSx in action. Hang out with the team, learn about the new tech stack, and grab some swag and a POAP!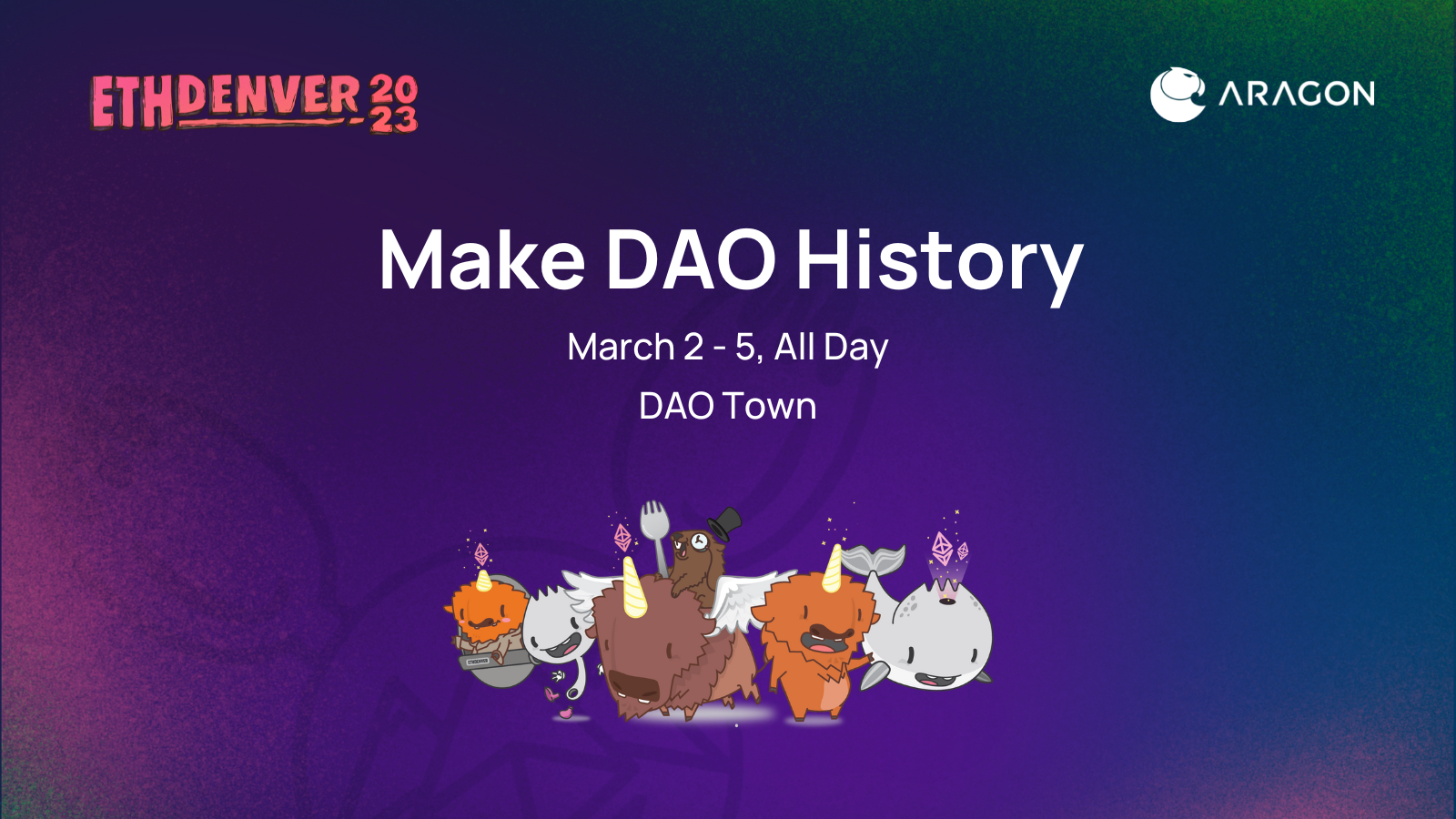 Free coffee and snacks will be available starting at 9am every morning, so make sure to come by to start your day!
Keynote: Rebuilding the foundation for DAOs, Juliette Chevalier, Developer Advocate
Juliette will detail the history of DAOs, where she thinks we're headed next, and what DAOs can do to grow and thrive. She will provide an evidence-based glimpse of where we're headed, map key patterns of what the next wave of history-making DAOs will need to thrive, and share insights on the future of DAO tooling.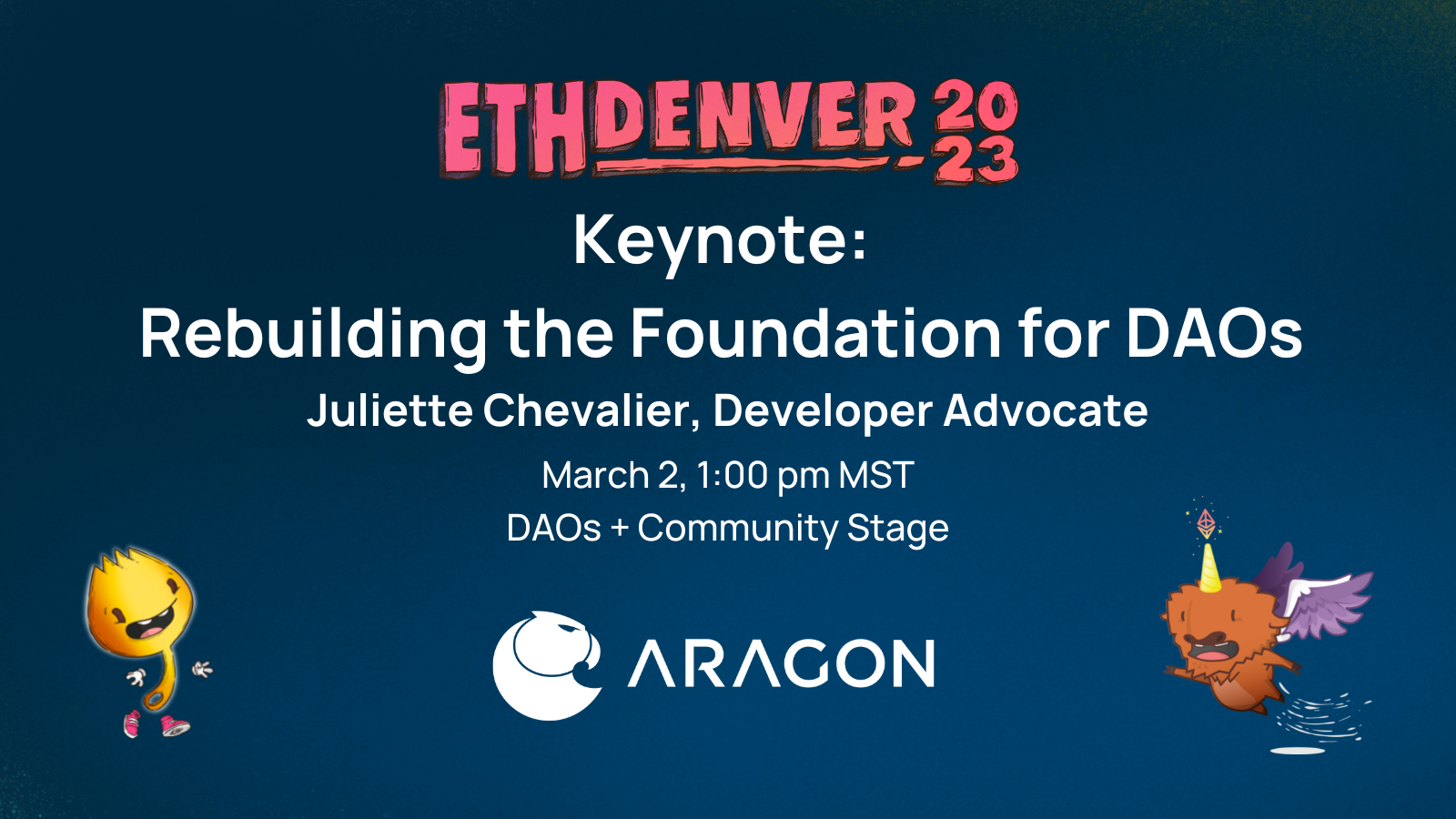 Bounties: Build with us!
Our new stack is modular and lightweight, so it's easy to build whatever you can imagine on top of it. And we can't wait to see what you create!
To get you started, we have five bounties live during the Buidl Week at EthDenver: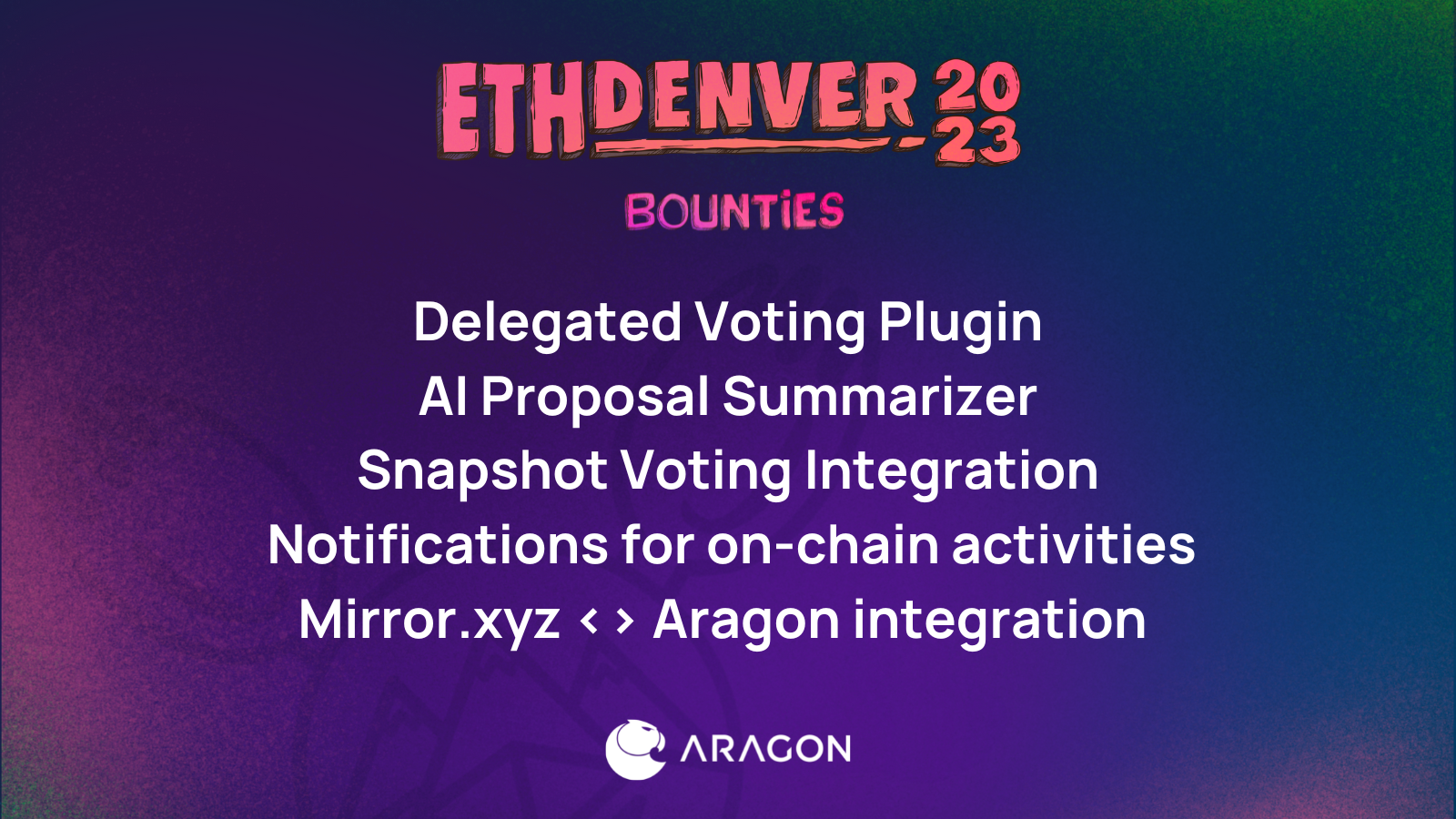 Delegate voting Aragon plugin
Objective: Build a delegated governance model for Aragon DAOs.
Delegated voting gives token holders a way to put their tokens to work in governance without needing to keep up with every proposal. Delegated voting is a great solution for large DAOs with widespread token holding, so we would love to see a delegated voting governance plugin developed for the new stack.
To implement this in Aragon, you'll likely have to build a token wrapper contract as well as an Aragon governance plugin.
Reward: $3,000
AI proposal summarizer for Aragon DAOs
Objective: Create an app that fetches proposals published by Aragon DAOs and outputs a clear summary using AI technology.
In order to make decision-making easier for DAO members, we want to bring in AI models to summarize proposals and forum discussions. Use a tool like the OpenAI API to summarize proposals and turn long texts into concise bullet points of the most important, contentious points in the proposal. The goal is not to provide a biased opinion on what the proposal outcome should be, but rather an objective, summarized account of the text itself.
Reward: $5,000
Snapshot voting within Aragon
Objective: Build a wrapper for the reality.eth oracle so Aragon DAOs can vote off-chain using Snapshot in the background.
Reality.eth is an oracle service that Snapshot uses to make sure the off-chain voting was not manipulated, as well as to share the results with other smart contracts. Once the results become final, they are submitted on-chain.
We would like to give Aragon DAOs the option to vote off-chain with Snapshot. This integration would mean querying the reality.eth oracle and executing the decision within the new Aragon protocol.
Reward: $3,000
Aragon DAO notifications
Objective: Build a tool that notifies DAO members when new events are triggered.
With so much happening in the space, people often miss all the activities going on in the organizations they participate in.
We want to build a way to notify members when key actions occur, like a published proposal, a vote resolution, assets withdrawn or deposited, or anything else that DAO members need to keep up to date with. You might use webhooks to fetch blockchain events coming from the new Aragon smart contracts and notify subscribed members via email or SMS when key actions are occuring within their organization.
Reward: $5,000
Mirror DAOs
Objective: Build a Mirror.xyz <> Aragon integration enabling users to create a DAO based on addresses that buy a Mirror post NFT or who subscribe to a publication.
Mirror has proven to be a great hub for DAO members to share their ideas, bring projects to life, and fundraise. With the new protocol, we'd like to take that mission further. Through an integration between Mirror and Aragon, we'd like to build DAOs based on the addresses that fund Mirror projects. This should enable teams to spin up faster and engage in decision-making, ensuring the funds are well allocated.
Reward: $2,500
Meet the team attending EthDenver
Here's the list of the Aragon team members attending the event. Get in touch with Shawn, our Community Manager, at shawn@aragon.org or @shawnzywonzie on telegram to schedule a meetup with any of the team members!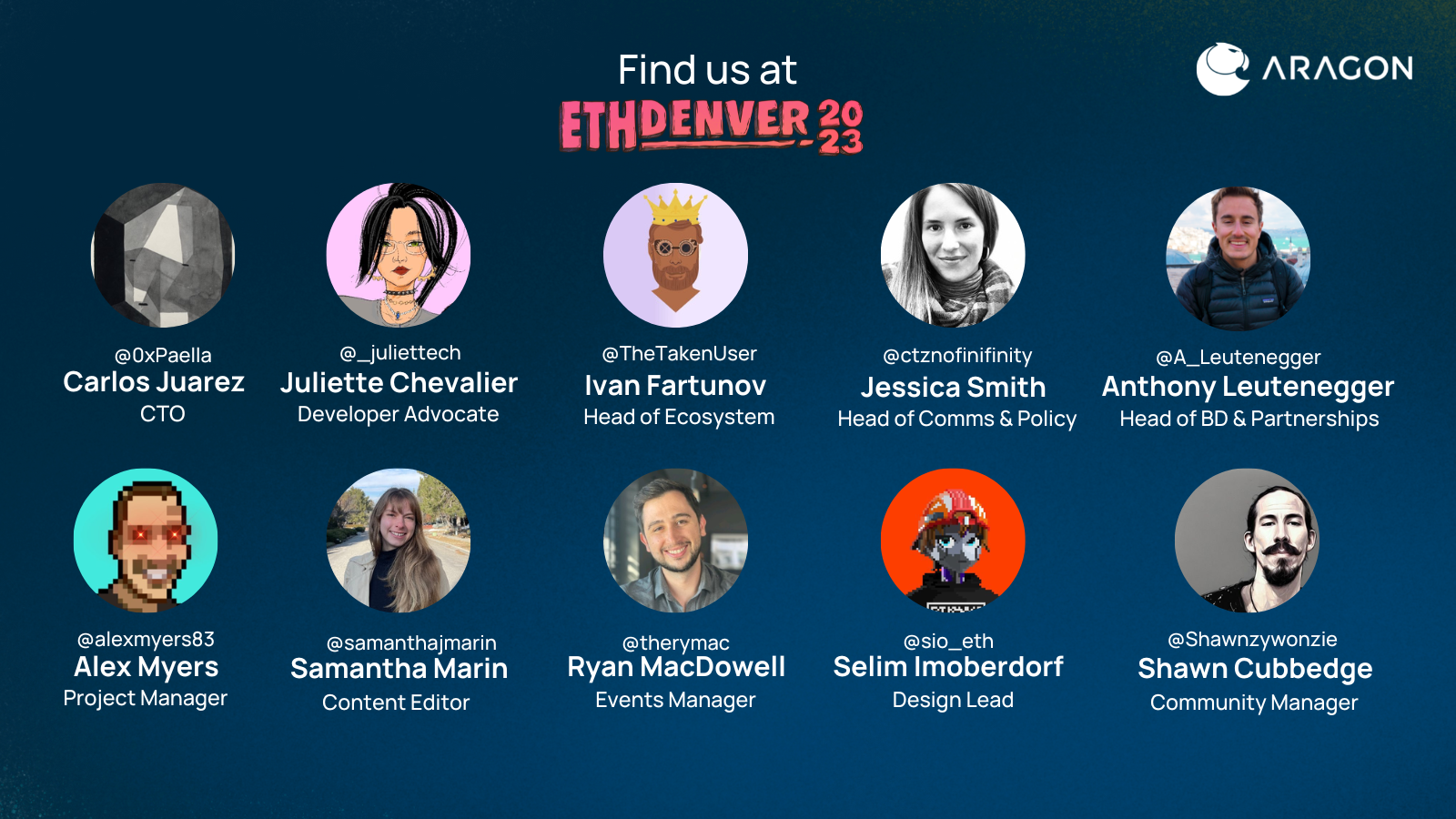 We can't wait to see you there!

—the Aragon Team
Subscribe to The Eagle for weekly news on the Aragon Network