Uno Re: Pioneering the Reinsurance DAO
Uno Re will partner with Aragon to develop a reputation-based DAO for the reinsurance industry.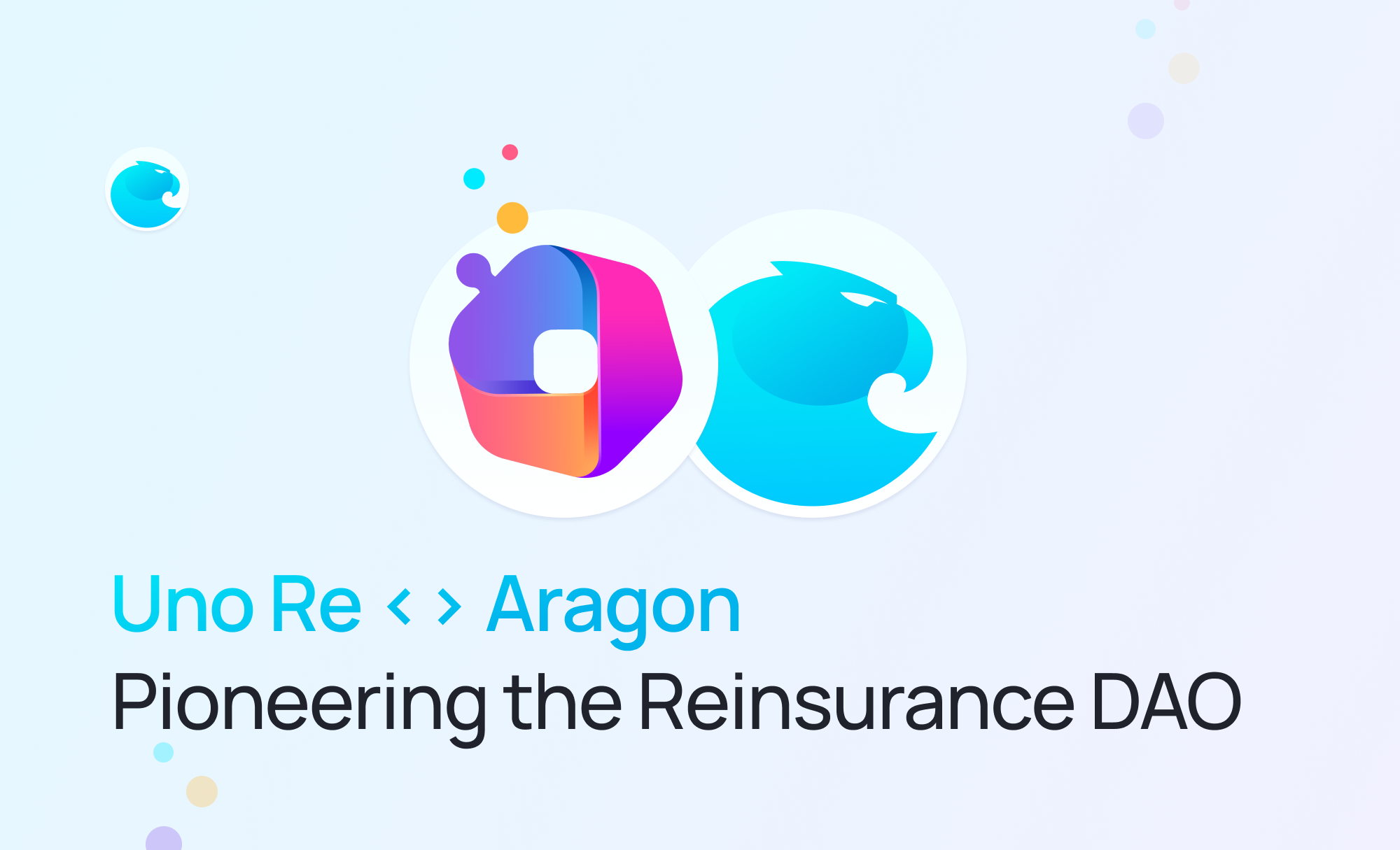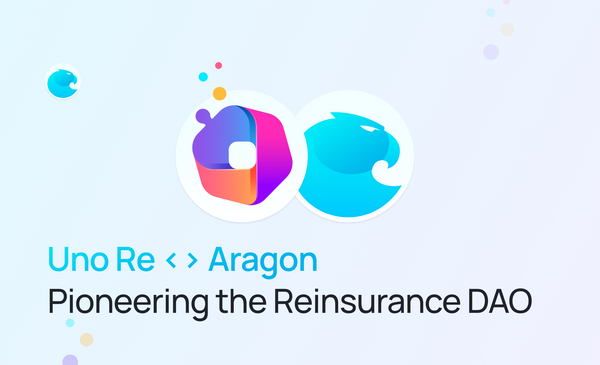 Industry estimates range from $50-80bn for losses to insurance companies from the Covid-19 pandemic. To protect against these kinds of long-tail risks, Uno Re is exploring using an Aragon DAO to manage a system of reinsurance, whereby insurers cede portions of their risk portfolios to other parties to reduce the likelihood of having to pay a large obligation resulting from a claim. Reinsurance can be thought of as the back-end architecture of the insurance industry, in contrast to the retail front-end.
As an investment vehicle, reinsurance is very well established but has historically been very hard to access for all but the largest investors. Uno Re is seeking to break down these barriers for investors by reducing the extremely high capital requirements of the reinsurance industry and allowing retail investors to invest as little as $500 in reinsurance risk pools.
Uno Re's wider vision is to create a simplified platform that would allow a new age of insurance providers to introduce innovative insurance products tailored to the community's needs, as well as offering retail investors the chance to make returns using risk pools and traders to buy and sell risk instruments.
For traders, Uno Re is approaching crypto trading communities who may be interested in trading reinsurance asset classes on their platform. Similar to how markets trade shares of a company stock, risk trading is trading in shares of an insurance portfolio.
The Aragon Association is committed to the decentralization of traditional power strongholds, open markets and the freedom of capital, as set out in our Manifesto. Uno Re's values and vision align perfectly with this commitment and we are super excited to explore how we can collaborate on technology and strategy to develop a proof of concept.
Decentralized Reinsurance

Uno Re was founded on the principles of transparency and decentralization. Built with the needs of our community in mind, they are looking to design a reputation-based DAO to perform various integral tasks within the Uno Re ecosystem. These actions include the assessment of reinsurance portfolios, the automation of decisions based on claims, platform improvements and dispute resolution. A DAO would eliminate the influence of any intermediaries to execute the above actions, thereby truly decentralizing the platform's decision-making body.
In pursuit of the above, we are delighted to partner with Uno Re to develop a DAO platform with resilient peer-to-peer governance and a role-based management structure designed keeping the needs of the community in mind.
We will also work on the concept of a reputation-based voting mechanism with different user categories - claim assessors, community members, risk underwriters who can vote on proposals, and token holders.
Significant Mechanisms

With this integration, it will be possible for the assessors or actuaries that are part of the governance body to perform the following vital mechanisms:
Collaboratively manage claims or assess risk.
Adjudication and management of reinsurance claims.
Determine the reasonable risk charge for the risk cover and a way for it to adjust over time.
Govern token allocation according to Uno Re's token model.
Automate decisions/voting for activities like evaluation of users who are interested in investing in reinsurance risk pools, proposing new products on the platform for innovators, and performing legal underwritings.
Dispute Resolution Management System

Additionally, Aragon will explore how a dispute resolution management body composed of experts could resolve any disagreements that arise from a claim decision, validation of insurance portfolios, etc.
"By establishing a DAO, handling claims becomes much more efficient -  a group of assessors evaluating the registered claims and taking decisions based on voting mechanisms replaces traditionally structured organizations where the decisions are put into the hands of a singular authority - making our ecosystem a truly decentralized one.
This blockchain-enabled organization solves potential issues of legality, security, and management structure by making the whole process of governance transparent as the rules in the form of smart contracts and subsequent actions are recorded on the secured blockchain ledger, which cannot be altered."    
"Built for the community, Uno Re understands the significance of a community-driven DAO. We are incredibly happy to join hands with Aragon who will support us in developing Reputation-based Decentralized Autonomous Organization (DAO) to perform various integral tasks within our ecosystem, making it one that is truly decentralized." - Sujith Sizon, CTO and Co-Founder of Uno Re
---
About Uno Re
Uno Re will be the world's first decentralized reinsurance platform powered by Polkadot, allowing the community to invest and trade in 'risk' and receive sizable returns on their investments in one of the safest asset classes in the world. The platform will break barriers to entry for the retail investor by doing away with the historic pre-requisite of absurdly high capital generally needed to invest into the market while also introducing much-needed transparency into the industry as a whole. Uno Re will also allow the community to propose innovative insurance products to the space, thus propelling a new generation of Insurtech companies powered by the Uno Re ecosystem.
--
Aragon is building the future of decentralized governance for Web3 communities & organizations. Deploy a DAO, manage your community, resolve disputes and run enterprise-level votes, all within our open-source stack. See the latest at aragon.org, subscribe to our monthly newsletter, join the conversation on Discord, or follow us on Twitter.
Docs | YouTube | Telegram | Github | Reddit | Linkedin | Forum
Subscribe to The Eagle for weekly news on the Aragon Network