2023 DAO Global Hackathon: Everything You Need to Know to Get Involved
The DAO Global Hackathon is an exciting 4-week virtual event where hackers will leverage cutting-edge governance primitives and existing tools to enable the next generation of DAOs.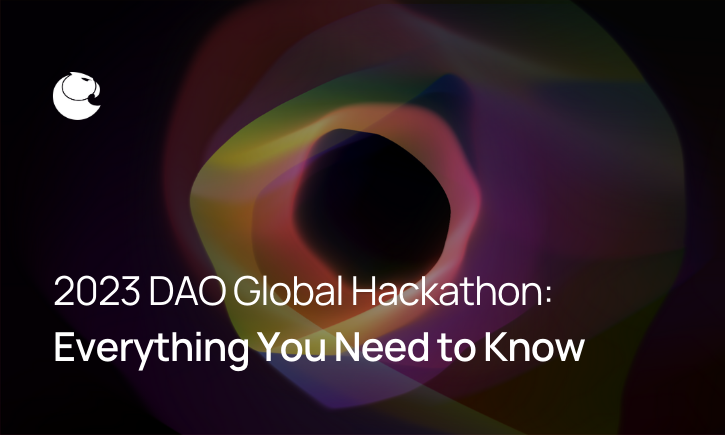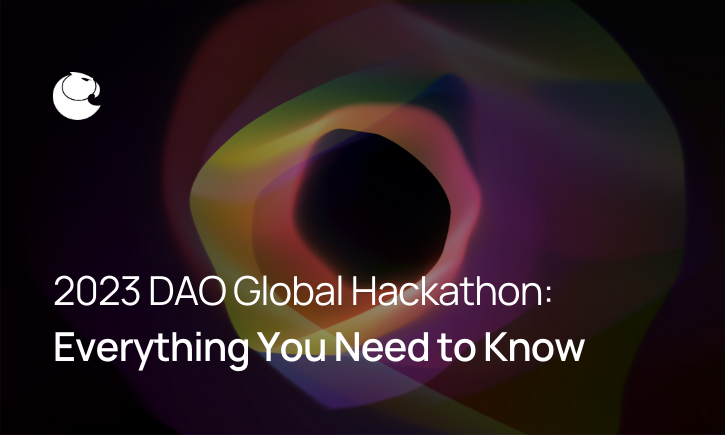 The DAO Global Hackathon is an exciting 4-week virtual event where hackers will leverage cutting-edge governance primitives and existing tools to enable the next generation of DAOs.
Running from April 10 to May 7, the Hackathon will bring together hackers, builders, and DAO operators to create solutions that DAOs will use in the real world.
For this hackathon, we will be leveraging the "legos thesis" that enabled DeFi and applying it to DAOs. Hackathon participants will find novel use cases for existing tools and create integrations that haven't yet been explored, choosing from a variety of bounties defined by the sponsoring partners.
In the first DAO Global Hackathon in 2021, 23 partners and over 1,000 hackers worked together to build exciting governance and coordination tools. The event had a significant impact on the DAO ecosystem, and we are excited to build on that success with this edition of the Hackathon.
Dates and Platform
Start: April 10
End: May 7
The hackathon will be hosted on HackerEarth. Register to participate here!
To find your team and join the DAO Global Hackathon community, join the discord server.
Hack Tracks

Integration track: Combine existing tools to address a user need or create a DAO process flow.
Use case track: Create new and interesting use cases for an existing DAO tool.
Solution track: Solve an organizational challenge that a DAO partner is facing.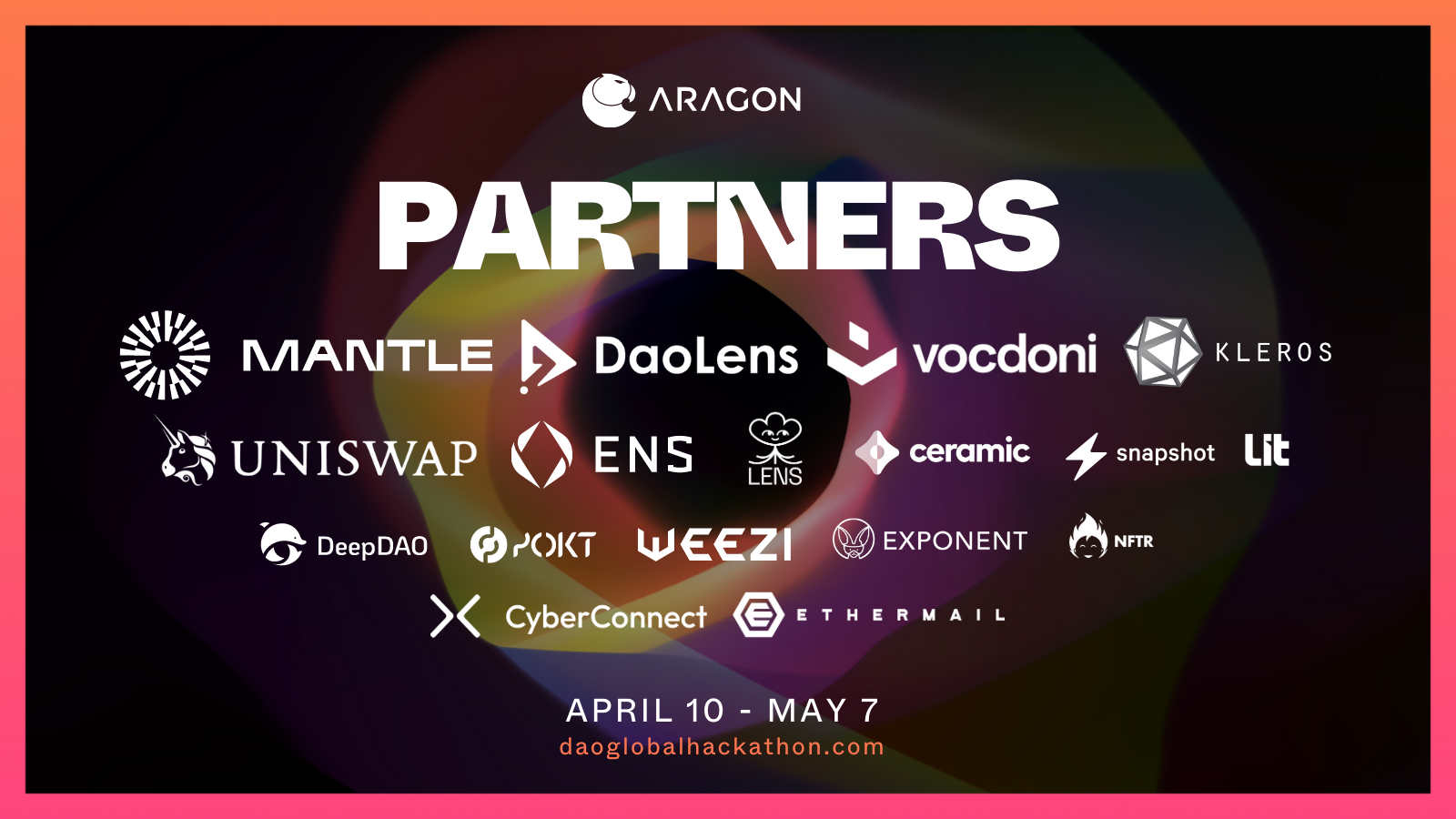 Partner List
Aragon is a leading funder and host of the event, providing bounties and organizing the hackathon. We're excited to work with these DAO industry leaders to put on this event!
DAOLens: AI-powered community management. Combine everything from discussion management, bounties and task management, voting, payouts, education and rewards.
Kleros: decentralized arbitration service for the disputes of the new economy.
Mantle: high-performance Ethereum layer-2 network built with modular architecture delivering low fees and high security.
Vocdoni: the most open, secure, and universally verifiable voting protocol, used by hundreds of organizations worldwide.
Uniswap:  the largest decentralized exchange (or DEX) operating on the Ethereum blockchain. It allows users anywhere in the world to trade crypto without an intermediary.
ENS: provides decentralized naming for wallets, websites, and more. No more sandboxed usernames. Own your username, store an avatar and other profile data, and use it across services.
Lens: the social layer of web3. It provides a protocol and a suite of tools and APIs for easily building social apps or integrating social features into existing apps.
Ceramic: a decentralized data network that powers an ecosystem of interoperable Web3 applications and services.
Deep DAO: the #1 discovery engine for DAOs, and the top tool for listing and analyzing governance.
Exponent: a risk and treasury management partner for decentralized communities, with expertise in protocol and treasury risk management.
Lit Protocol: a decentralized key management network that lets you create and manage distributed cryptographic keypairs for condition-based encryption and programmatic signing.
NFTR: a decentralized NFT name registry that creates a universal name space with a single instance of each name across all ERC-721s.
POKT Network: an unstoppable protocol for open data. Provide open RPC and APIs for developers to access blockchain data.
Snapshot Labs: a voting platform that allows DAOs, DeFi protocols, or NFT communities to vote easily and without gas fees.
Weezi: a simple, easy to use treasury management interface for DAO asset managers. This tool aggregates all your DAO's treasuries in one place with sophisticated integrations to grow your treasury safely.
Cyberconnect: a decentralized social network protocol that helps Web3 applications bootstrap network effects and build meaningful social experiences, while empowering users to truly own and monetize their social data and content.
Ethermail: allows fully anonymous and encrypted P2P communication and rewards its users for reading relevant content in their inbox.
Gitcoin: the new Grants Stack is the easiest way to deploy, manage, and grow a successful grants program.
Q: an EVM-compatible proof-of-stake blockchain that combines the benefits of a public, open and decentralized ledger with the transparency of enforceable private contracts.
Mailchain: the communication layer for web3. Send and receive messages directly between wallets.
Stay tuned to learn about specific bounty information, which we'll announce in the coming weeks leading up to the Hackathon!
Bounty Pool
$140,000+ distributed across bounties provided by leading organizations in the global DAO ecosystem!
FAQ

Who can participate in this Hackathon? Anyone from anywhere in the world can participate. The goal is to open up DAO technology to all communities globally.

What if I've never been to a hackathon before? No worries! It's helpful to have some software engineering experience, but it's not a requirement. Projects often need designers, front-end engineers, project managers, and more. Find a team that needs your skill set and join the fun!

Do I need to pay to register for this Hackathon? No, it is free to participate.

Do I need to have any specific qualifications to be a participant for the Hackathon? If you love to code, you are more than welcome to participate in the Hackathon.

Do we need to have a fully working prototype to submit a bounty? Not necessarily! Ideally you showcase as much as you can about your ideal solution, but the most important thing is to meet the bounty requirements outlined in the bounty.

Do I need to be online and available for the entire duration of the Hackathon? No, you don't need to be online for any specific hours during the Hackathon. However, we will be hosting workshops and events you'll likely want to attend. The idea is that you develop your solution locally with a team (or by yourself) and then simply submit it through the HackerEarth hackathon platform on the specific bounty page.

Do I need to give a demo for the product that I have built? Requiring a video demo is common. Please review carefully the submission requirements for the specific bounty you are working on.

Who will own the IP (Intellectual Property (IP) Rights to the product that I have built? Developer(s) will retain all rights and own the IP of the product. However, all code needs to be open source upon submission and remain open source in the future.
Get involved!
Register here and join the discord server! We can't wait to build with you!
Subscribe to The Eagle for weekly news on the Aragon Network