Aragon OSx and App are live on Polygon
Build your DAO on a low cost, fast, Layer 2 blockchain today!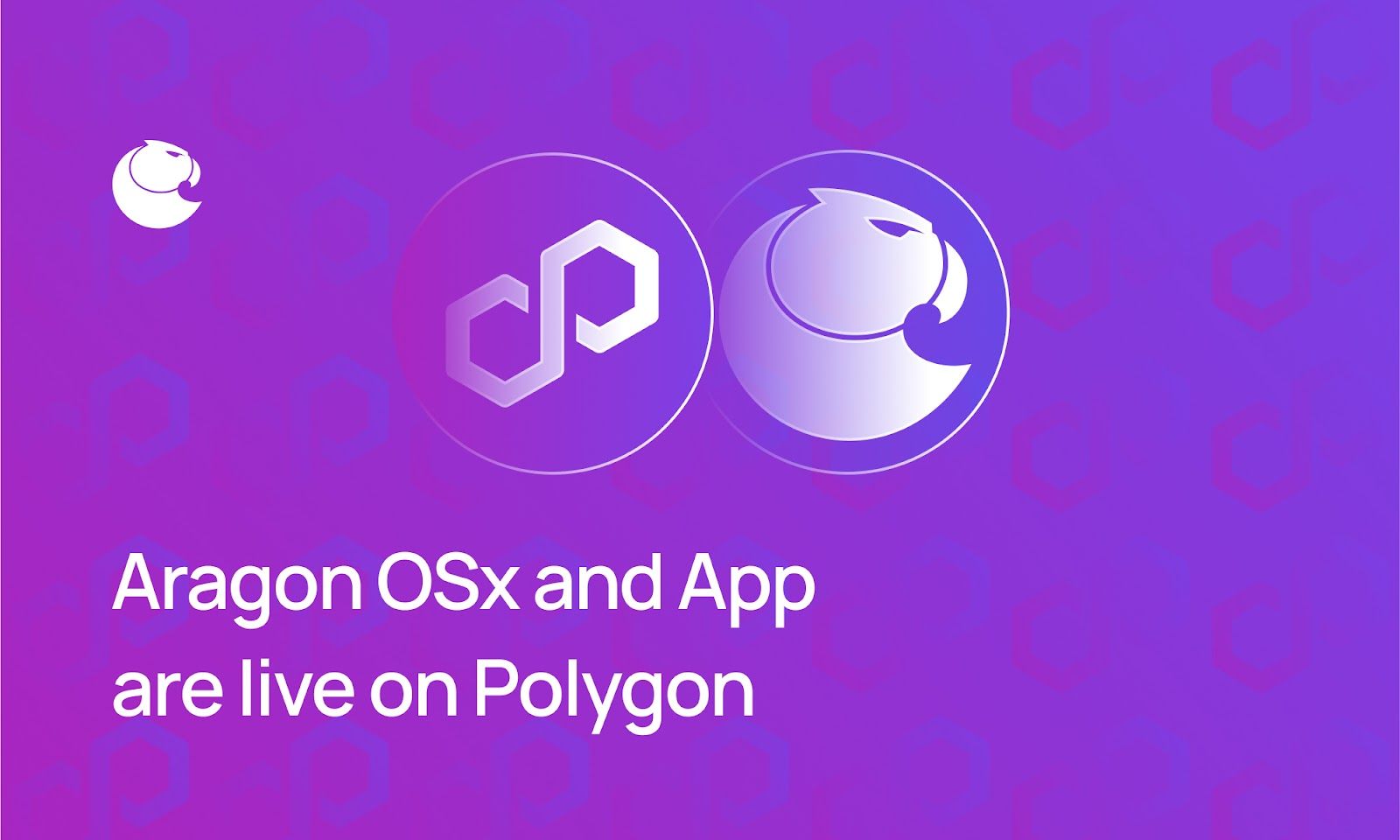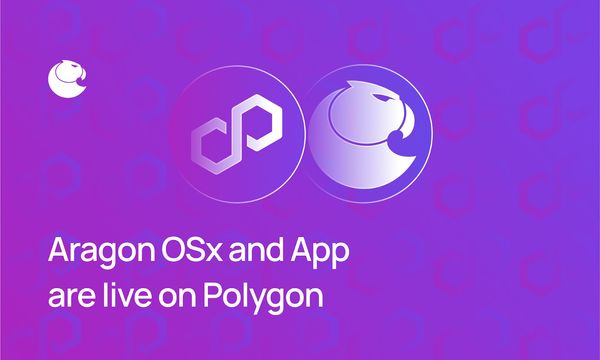 For DAO technology to reach mass adoption, we need to make DAOs more accessible. One of the key ways to do that is through lowering the cost of launching and managing your DAO. We're excited to offer Polygon to everyone building DAOs on Aragon OSx and App (beta) today! You can now launch your DAO on a scalable, gas efficient, distributed Proof of Stake sidechain.
Polygon helps make DAOs accessible to more people by significantly lowering the cost of building, managing, and participating in a DAO.
There has been a huge demand for Polygon amongst DAOs building on Aragon and in the web3 ecosystem as a whole, so it was a clear next step.
Polygon is a Layer 2, or sidechain, built on Ethereum. Transactions on Polygon are low cost and fast, but still EVM-compatible. The Polygon Proof of Stake chain is one of the most used blockchains today, with over 3 million daily transactions on average and $5 billion in TVL. Even with such high traffic, they are still able to keep transaction fees to just fractions of a cent.
Polygon is also committed to fighting climate change. They are carbon-neutral with plans to become climate positive soon.
Layer 2 blockchains like Polygon are essential for onboarding new entrants into the space. The high transaction fees of Layer 1's are a barrier to entry for many DAO builders and members, but Polygon solves this with near-zero transaction fees. Not only can deploying a DAO on a Layer 1 blockchain be cost prohibitive, but the transaction costs of votes can add up for community members, which can decrease voter engagement. A Layer 2 solution is essential for highly active DAOs.
When deploying your DAO on Polygon, you get these benefits:
Near-zero cost of transactions
Faster transactions
EVM compatibility
Making DAOs and web3 technology accessible to all
Polygon makes DAOs and web3 technology accessible to everyone with faster and lower cost transactions. Some of the biggest projects in web3 and beyond use Polygon. From household names like Reddit and Robinhood to web3 native projects like Lens and Aavegotchi, Polygon has been the common denominator in all of these projects' scalability.
Polygon has been particularly important for scaling protocols that have a high volume of transactions. Gaming and NFT projects such as Aavegotchi use Polygon to mint NFTs and power their metaverse, and Lens uses it to enable their decentralized social graph. These projects are great examples of the power of Polygon, because even with the protocol's high volume of transactions, the protocol can still run seamlessly and provide a good experience for users.
Polygon Labs also prioritizes education, another key part in bringing mass adoption to web3. Polygon Labs supports a network of guilds based around the world to get involved with, tons of resources for developers, and even a curated guide for web3 game builders to help you launch your project.
"To date over 6,000 DAOs have been created on Polygon using our old products, now we are happy to offer this functionality on the new Aragon App! Polygon will help the next wave of DAO builders reach their goals with minimal gas costs and higher speeds, enabling DAOs to more efficiently experiment with governance at the speed of software."

— Anthony Leutenegger, Head of Growth at Aragon
"Polygon Labs and Aragon have been at the forefront of helping onboard users into the web3 and DAO space for years. With today's Polygon deployment we are enabling communities to work closer and faster than ever."

—Carlos Juarez, CTO of Aragon
"I am excited about the launch of the new version of the Aragon App on Polygon, which, thanks to innovative features, will allow the creation and management of multiple decentralized organizations in a simpler and more intuitive way. This renewed collaboration between Aragon and Polygon Labs opens the door to a new DAO season, moving from an experimental and exploratory phase to the consolidation of numerous new decentralized initiatives."

— Grendel Marco, Head of DAO Business Development at Polygon
The History of Aragon on Polygon
Aragon and Polygon have a long history together. The original Aragon OS was deployed to Polygon in September 2021. Since then, Aragon DAOs have been able to deploy on Polygon using the old Aragon Client.
Now, with our new modular, adaptable tech stack, we're excited to offer Polygon to DAOs building on Aragon in 2023 and beyond!
Aragon OSx on Polygon is a powerful combination. Polygon offers scalability, and our new tech stack has the modularity that is needed for DAOs to swap out plugins easily, making it easier to adapt your organization. With scalability and modularity combined, mass adoption of DAOs can get much closer to reality!
Polygon is also opening doors for developing countries to adopt web3. Projects like Impact Plus are using Polygon to bring blockchain-based solutions to solve real-world problems. Without Polygon's low cost, it would be significantly more difficult to use the blockchain for good. We hope low-cost DAO creation and management can begin taking root in the places that need it most!
How to deploy your DAO on Polygon
Open the Aragon App and click "Create a DAO." The first thing you'll do is select the blockchain you want to deploy on. Choose "Polygon" in this step, and then follow the steps in the DAO creation flow.
Build your DAO on Polygon with the Aragon App today

Head to the Aragon App to launch your DAO on Polygon today! Or, dive into the protocol and SDK in our Developer Portal.
Subscribe to The Eagle for weekly news on the Aragon Network