Partnering with the Ukrainian Government to Bring DAO Education to Ukrainians
A new DAO course will put easy, fast DAO creation tools into the hands of all Ukrainians through the Diia app.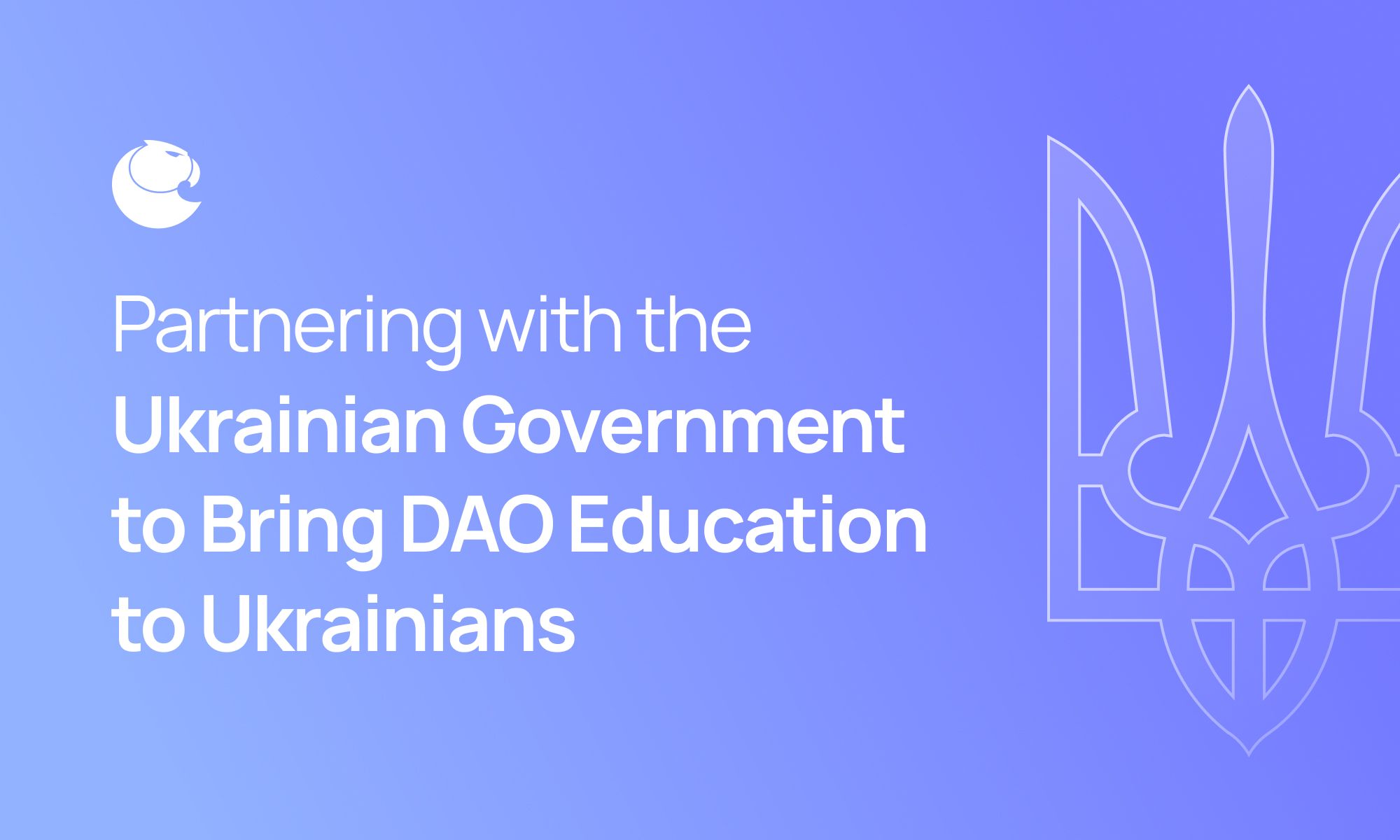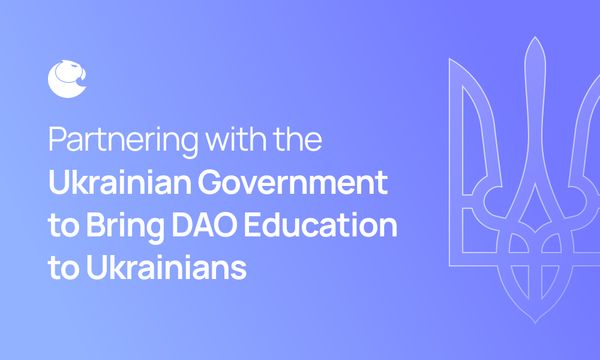 We're proud to announce a partnership with the Ukrainian Ministry of Digital Transformation to launch a course that will teach Ukrainians how to create and manage DAOs. This course puts simple, easy-to-use tools into the hands of all Ukrainian citizens.
We're honored to work with one of the first nation states to bring web3 technology to their citizens.
In the midst of a war and humanitarian crisis, Ukrainians need access to censorship resistant tools to coordinate their communities. By the end of the course, each student will have created their own unstoppable organization on the blockchain, so they can coordinate without risk of interruption of critical infrastructure, losing access to funds, or censorship.
From planning the delivery of relief services, to anonymously and securely receiving donations, DAOs have proved to be useful in Ukraine during this crisis. In 2022 we supported Unchain Fund and Ukraine DAO, both of which have brought aid to Ukrainians on the ground, so we're excited to continue providing help during this time of need.

Our goal with this course is to equip Ukrainians with everything they need to know to start a DAO, regardless of their previous knowledge.
The course will be delivered on the national governance app, Diia, used by over half the adult population of Ukraine (18.5+ million). Currently within the app, citizens can manage and access crucial documents and other government materials that they need, which is especially critical in this time of uncertainty.
The app has been so successful that the USAID is working to bring it to other countries as well. We're excited about the prospect of opening and growing partnerships with nation states to further the adoption of web3 technologies. Situations like the war in Ukraine are the most timely, real-world use cases for this technology, so we look forward to bridging the gap between ideation and adoption.
Our DAO modules are just one part of a larger web3 course that is being designed. Partners such as Filecoin, ZKsync, Optimism, and Safe are working on other parts of the course, which range from theoretical blockchain learnings to practical self-custodial best practices. Over 100 hours of educational content are available on the platform, giving Ukrainians a gateway into the web3 ecosystem.
Our modules will cover the basics of DAOs, examples of how they can be used, and a step-by-step guide of how to launch them on the new Aragon App. By the end of the course, students will have launched their own DAO onchain.
War is a humanitarian crisis that affects critical infrastructure and services for citizens creating an urgent need for alternative forms of coordination. Blockchain technology can provide unstoppable infrastructure that is a more resilient alternative when a nation state is under attack.
We're excited to empower Ukrainian citizens by expanding access to web3 education. We hope they will complete the course understanding the power and potential of blockchain technology to build censorship-resistant, unstoppable organizations!

A sneak peek into our course on DAOs
We'll break down key aspects of the technology, starting with the blockchain. We'll explain why DAOs run on blockchains and cover a few other key components that make up a DAO.
We'll also cover the basics of governance, such as voting methods, quorum, and pass rate.
Students will also learn about some of the most popular use cases of DAOs and how these applications exemplify their vast potential. Any new student entering the course with no prior knowledge will leave having a foundational understanding of the subject and practical experience launching their DAO with the new Aragon App.
The modules will be broken down into the following categories:
-   1: Brief history of human organization and introduction to DAOs
-   2: The foundation of DAOs: the blockchain
-   3: Wallets, tokens, and how they're used in governance
-   4: DAO frameworks and "autonomous" organizations
-   5: Bring your DAO to life on the blockchain!
Our mission is to build unstoppable organizations

Aragon was founded to help organizations become unstoppable in the midst of a constantly changing world. Ukrainians need the stability of the blockchain within these uncertain times. We're excited to continue supporting Ukrainians and helping their efforts!
We're hopeful DAOs can increase coordination and provide relief in times of crisis. With the right education and tools, the possibilities for ingenuity are infinite. We hope more nation states will put these powerful tools in the hands of their citizens.
To learn more about the partnership, tune in to our Twitter Space with representatives from the Ministry and web3 partners on March 17, 4:30pm UTC.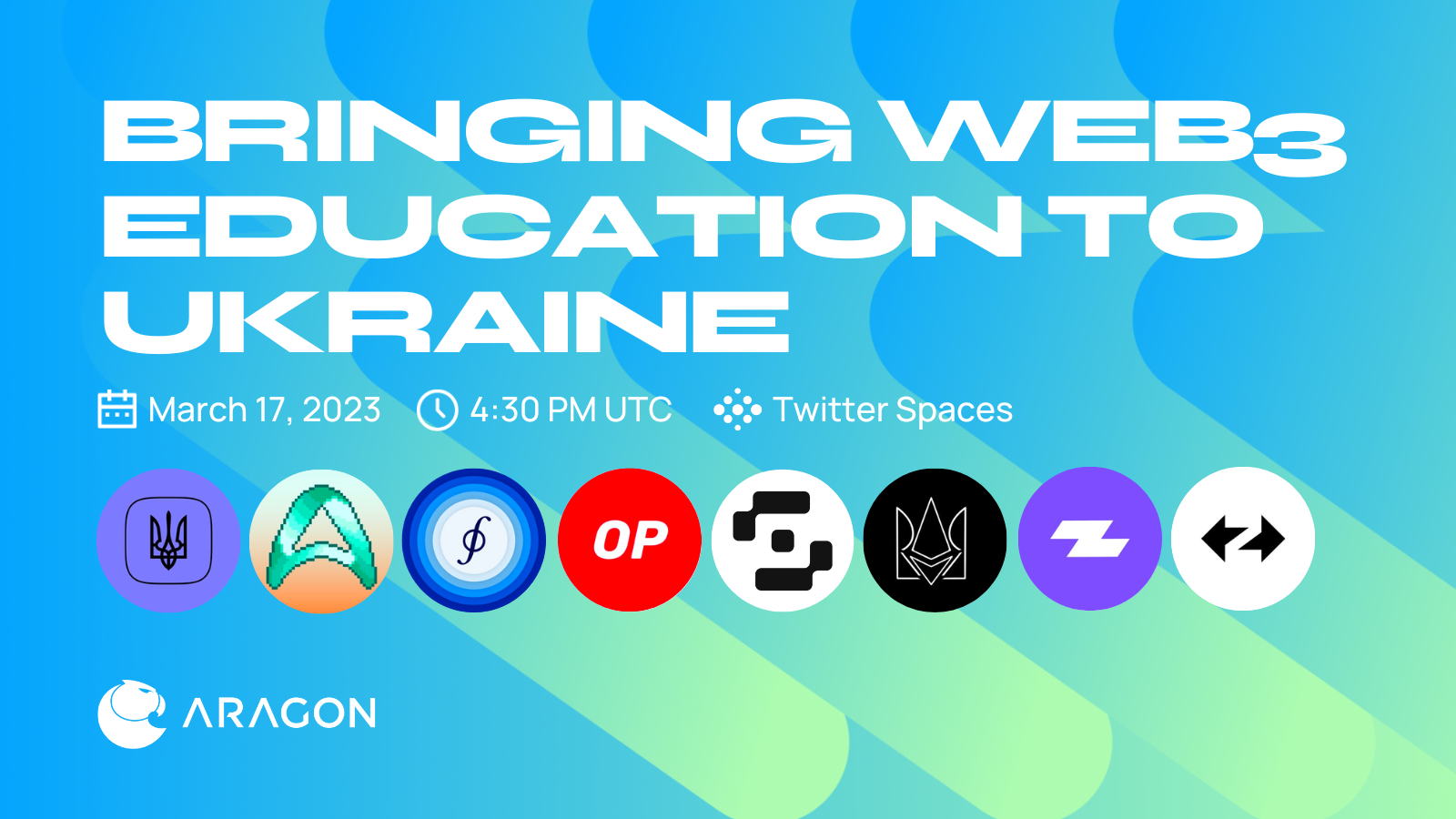 You can launch your own DAO on the Aragon App today! You can also stay up to date on this course and our education efforts by subscribing to The Eagle, our weekly newsletter covering everything happening in the Aragon ecosystem.
Subscribe to The Eagle for weekly news on the Aragon Network