How to Start a Sports DAO
DAOs offer a whole new way for fans to come together to support their favorite team, hold events, and raise funds.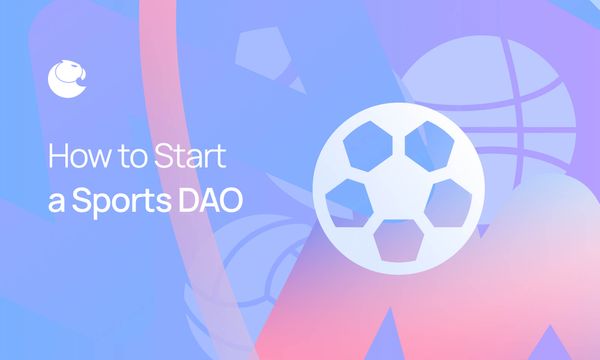 DAOs offer a whole new way for fans to come together to support their favorite team, hold events, and raise funds.
Here's how to start a sports DAO:

1. Choose your team or sport.

2. Define your purpose in a way that excites new members to join.

3. Set your governance to be simple and adaptable, because most members will be here as a hobby, not a full time job.

4. Determine your tooling stack, particularly how you'll gate communication channels to members-only.

5. Launch your NFT (or choose another funding mechanism).

6. Get the word out to fellow fans, particularly through brand partnerships.

7. Onboard contributors and grow your fan club community, especially through special merch, events, and media coverage.
We'll use three sports DAOs, Krause House, Links DAO, and WAGMI United, to understand the steps in further detail.
What is a Sports DAO?

A Sports DAO is an organization that uses the tools of crypto and web3 to achieve common goals around a specific sport or team. This might include buying a team or venue, creating a fan club, or starting a new team or league IRL or in the metaverse.
DAOs are well-suited for governing a treasury of shared resources. So, many sports DAOs make their purpose to buy a team or sports venue. For example, their goal could be to purchase a specific sports team and give DAO members governance and decision-making rights over that organization. Or, maybe their goal is to buy a sports venue and give members special access, like Links DAO with their golf course.
Sports DAOs are still early and have many possibilities! Let's dive into how to start a sports DAO.


Step 1: Choose your team or sport
You might want to start a sports DAO focused on a single team, so all your members are aligned in supporting that same team. Or, you may want to start a DAO focused on an entire sport. Whichever you choose, it's best to pick one sport or team and stick with it, so members aren't uncertain about what your DAO's main focus is. The more clarity and alignment, the better!
Let's look at our examples:
Krause House - Basketball 🏀

Links DAO - Golf 🏌️‍♀️

WAGMI United - Football (soccer), specifically the Crowley Town FC team ⚽️


Step 2: Define your purpose
Now that you've chosen your team or sport, the next step is to define purpose, which is what your DAO seeks to achieve in the world. Why are you gathering a community together?
Create a purpose that is just aspirational enough that your members will be excited to rally around it. Your sports DAO's purpose must be inspirational and exciting, so members are excited to join your ranks and get to work!
Krause House: Bring the first fan-governed team to the NBA. In the long term, their vision is to empower fans of every professional franchise to collectively have real ownership of the organization.

Links DAO: Buying a golf course and building the world's greatest golf and leisure club.

WAGMI United: To reinvent broken legacy sports management models, give fans a meaningful voice, and take Crawley Town FC, the smallest club int he English Football League, to the Premier League.
Below Krause House elaborates on their purpose statement and why it's so exciting to them, notice how it inspires action in members:
"Team ownership shouldn't be limited to a handful of billionaires, but rather a movement of individuals that want to be a part of the greatest professional league in the world. Fans breed life to the organizations in which they attach, so isn't it reasonable to accept a shared portion of the ownership and upside? We don't think it's merely acceptable, but mandatory."
—Welcome to the Krause House by Flex Chapman, published on Mirror.
Links DAO also wants to change the system from the ground up. In an article for Golf, Links DAO founder Mike Dudas explained the purpose of the organization, and how "the aversion to the stodginess and strictures of traditional country clubs" have inspired the community to come together and build an alternative to the golf courses of old.

Think of how you can change the future of your sport or team by creating a purpose statement that inspires hundreds (or thousands!) of new members.


Step 3: Set your governance to be simple and adaptable
Setting your governance means determining who can make decisions and how they're made. When setting your governance process for your sports DAO, it's best to start simple and add more complexity if needed.
Since sports are probably a hobby your DAO members do in their free time, you should set a governance model that doesn't require too much participation from members. It should be simple and adaptable, not complex and time-consuming.
To do this, consider creating a dedicated group that focuses on governance, or allowing the smaller teams to have more decision-making autonomy on their own. You can do this easily in the Aragon App by creating a wallet-based DAO, or multisig DAO.
Sports DAOs today seem to keep their governance at a minimum. They might give access to some decision-making power via NFT ownership, but otherwise, decisions are often kept in a smaller team or with subject matter experts. This structure works for sports DAOs because they're hobby groups, and people don't want to be bogged down in governance work if their goal is to be there in their free time.
Commodore of Krause House said they were inspired by Yearn's 2.0 governance system, putting most of the governance management on a small team of experts who help the community flesh out their ideas. "We have a Stewards Team whose responsibility is to help ideas from the community form into proposals. The key is not to have an opinion on the proposal, but to help get it crafted into a well scoped proposal. This typically means a clear objective ask with clear guidelines on duration and cost."
Krause House: NFT holders in a three-tiered system will have decision-making rights over team location, approval of key executive hires, marketing and events, and ownership decisions such as buying or selling additional equity as a team.

Links DAO: NFT holders in two tiers (Global has 4x governance rights, Leisure has 1x) have access to governance.

WAGMI United: NFT holders have decision-making rights over certain aspects of the future team they plan to buy.


Step 4: Determine your tooling stack

How will your sports DAO coordinate? Members from all over the world will need a way to talk, plan, and work together. Think beyond just Discord—how will you make decisions? And once those decisions are made, how will you record and execute them?
Some parts of your DAO tooling stack might include:
Communication and coordination tools (Discord, Telegram)
Voting and decision-making tools (Aragon App, Tally, Snapshot)
Finance and contributor rewards (Safe, Parcel)
Membership tracking and platform gating (POAP, Guild)
Broadcasting and marketing (Substack, Twitter)
Legal (Otoco, LexDAO)
For voting and decision-making, check out the Aragon App, which is an easy-to-use homebase for your DAO. You can get started in 10 minutes or less!
NFT-gated discord channels seem to be the most popular way for sports DAOs to coordinate. Using a platform like Guild to token-gate your channels can keep discussions in the right places.
Krause House: NFT-gated Discord channels, Mirror articles

Links DAO: NFT-gated Discord channels, Medium articles, newsletter

WAGMI United: NFT-gated Discord channels
As part of the tooling stack step, you might want to consider getting a legal wrapper to protect the liability of your members.
Our DAO Experts can help! Get in touch with an expert to consult for your legal wrapper formation.


Step 5: Launch your project

Now that you've determined who's in your community, set your governance process, and determined your tooling stack, it's time to bring it all together and launch your token or NFT to gate access to channels and fund your treasury!
You might be launching a fungible ERC-20 that introduces speculation, or maybe you're selling NFTs to fund your treasury and gate access. Or, you could be raising funds a more traditional way, such as through Angel Investors or venture capital.
Of all the governance options, NFT membership seems to be the most popular choice for most Sports DAOs to gate access to channels and provide an entry ticket into events.
Of the three sports DAOs we're highlighting, NFTs are used to grant membership into the organization and come with other special benefits.
Krause House: The three-tiered NFT system gives access to gated channels, invites to online and IRL events, and will eventually be tied to ownership of the NBA team they're planning to buy.

Links DAO: NFTs give access to Discord/community, governance power, and will eventually gate golf games.

WAGMI United: NFTs give access to special Adidas merchandise, events, and the ability to offer input on the future of Crawley Town FC, the team they purchased.


Step 6: Get the word out

Now, it's time to start marketing your DAO! Once you've generated a treasury, you're ready to start using it for marketing efforts and recruiting talented contributors who can help further your mission.
Of the DAOs we studied, partnerships seemed to be a common way to build hype and reputability of the brand. The DAOs below have formed major partnerships with sports brands in their industry, and it seems that has attracted media coverage from major organizations.
Krause House: purchased a basketball team both IRL and in the metaverse, major media coverage (New York Times, Business Insider), podcast, Mirror articles, Twitter

Links DAO: significant media coverage (Forbes, Business Insider), partnerships with prominent golf brands and organizations, newsletter, Medium articles, events, Twitter

WAGMI United: Adidas partnership, events, Twitter
Commodore, founder of Krause House, said the early days were mostly focused on podcast and Twitter promotion, which attracted mission-aligned members. "It really started with an idea, a Twitter account, and a podcast. We quickly gained traction and then made a Discord to better get to know our early members. It was a lot of fun in the early days, mostly memes, inside jokes, and working for the cause."
WAGMI United gained traction in part through a key partnership with Adidas. In their manifesto, they share details on their partnership:
"We're proud to partner with adidas, a brand that has always pushed the boundaries of sport and culture. We couldn't have dreamed of a better way to start our adventure than with a brand with such rich history in football and performance sport."


Step 7: Onboard contributors and grow your community

Next, you'll want to grow your community so that you have a thriving DAO full of people working to achieve your mission. Managing a DAO community can be difficult, and is different based on your community's unique needs, but this guide can help.
In general, you'll want to:
Identify the types of contributors who would be a good fit for your DAO.
Spend time in those spaces and do direct outreach.
Cultivate a good environment that people want to spend time in.
Create opportunities for contributors to turn into leaders in your DAO.
NFT sales are the most common way for sports DAOs to onboard new community members. Beyond that, it seems that IRL and virtual events are very important for continuing to nurture those memberships.
Krause House: NFT sales, onboarding flow, events

Links DAO: NFT sales, job postings for full-time contributors, events

WAGMI United: NFT sales, events
Commodore, founder of Krause House, said onboarding was a crucial feature that Krause House had to focus on early. "We felt that best-in-class onboarding was imperative. We focused on that process and built out what we called Draft Classes. Additionally, we implemented onboarding journeys for each type of talent to move through and into the DAO."
Be bold and follow your dream! Launch on the Aragon App today
"Be original. Be bold. Use the power of the sport you're rallying around—a DAO just around a shared interest is hard to survive."
- Commodore's advice for new sports DAO founders
Ready to get started, or just want to experiment? Launch your sports DAO or build a test DAO on the Aragon App today!
Subscribe to The Eagle for weekly news on the Aragon Network